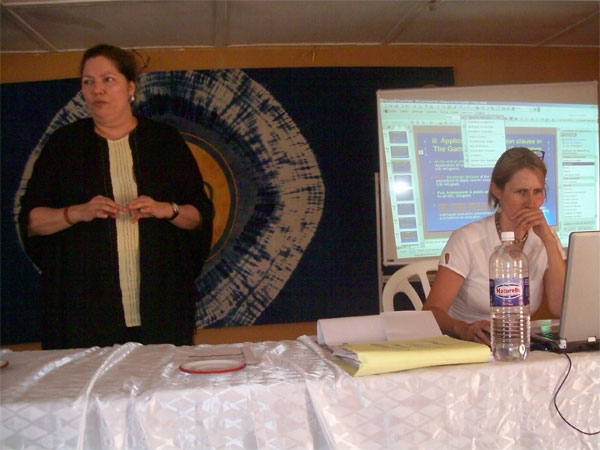 UNHCR, responsible for the safety of refugees in The Gambia recently gathered refugees after conscientising the security forces before. Liberian and Sierra Leonean refugees were in their number attending the meeting with personnel from the UNHCR headquarters in Dakar giving their input in the refugee laws. The two trained lawyers dilated on the issues pertinent to the refugees. Aware of the constraints refugees face and the looming cut off of assistance to refugees, who are also head bent on possible persecutions and difficulties they fear to return home, UNHCR is concerned about refugee return to their homes and refugees pointed out most of their fears in a form of questions posed to the facilitators, Benedicta and Sonia from the UNHCR headquarters in Dakar.
Present at the one day seminar at Girl Guides were Sonia, the senior legal Protection Officer, a trained lawyer by profession, Benedicta, a Focal Point for The Gambia, Mr. Saho UNHCR Gambia, Mr. Ceesay GAFNA, Mr. Cox, Commissioner Touray of the Immigration Department, the focal point for refugees in The Gambia, while Fatou Barry, the Protection officer for refugees in The Gambia was busy with the logistics of the seminar.
Mr. Cox of GAFNA said they cannot do everything, so they ask the authorities to help. "A team has come from Dakar to talk on your right. We also had such with the police and the Immigration to know what governs you."
Welcoming everyone to the gathering, Mr. Saho said it was very important a meeting through which refugees will ask pertinent questions to these lawyers working for UNHCR. "We have monthly meetings and we have monthly meetings with refugees on their issues. We brought junior immigration officers yesterday and they understood what they did not know. They are the ones who harass or come in contact with you. We know Sierra Leone and Liberia have peace but we have to consolidate that peace.
Sonia, the Senior Legal Protection Officer at the Dakar UNHCR office, said she insisted on the security to respect refugees. We had a seminar with the security, who are the ones who harass refugees. "We always ask the refugees to behave themselves always."
In her presentation Benedicta the Focal Point for refugees in Dakar pointed out the options for durable solutions for Sierra Leonean and Liberian refugees in The Gambia.
She point out what they would discuss including: -Mandate, Refugee cycle, Some figures of Sierra Leone and Liberian refugees in West Africa, Local integration strategy in West Africa, Local integration, what does it mean? Overview of the refugee situation in The Gambia, and question and answer. She talked about the objectives, saying that refugee state is a temporary measure that is why UNHCR try to talk to government for integration. 1) To enable refugees to realistically make a choice or option. 2) To understand the temporary nature of refugee status and need to find a solution. 3) To inform refugees on available options for durable solution in The Gambia and 4) to finally enable refugees to realistically make a choice or option.
Talking on their mandate, Benedicta said UNHCR provides international protection to refugees (admission to country of asylum and non-refoulement). International law stipulates the non return of a refugee to the country they are running from. (International protection). It is the first and primary responsibility of a state. The international protection is surrogate or temporary.
To find a durable and permanent solution for refugees: 1) Local integration in the country of asylum. 2) Reference for resettlement to 3rd country. (There is no right to resettlement. The option depends on the country. Sonia said, "Resettlement is not an option, don't loose your time, you will be here fifty years waiting and your children will live their lives here instead of going home to do some good work to develop yourselves. We can try our best in severe cases but it depends on the country and government. The countries of resettlement have embassies in your country. Whatever we tell them they will go to verify in your area at home. Only when states do not comply with their own resolutions then UNHCR contains the mechanism for ensuring protection to refugees."
There are three durable solutions Benedicta pointed out: 1) Voluntary repatriation, safety return home in dignity. 2) Local integration, care and maintenance versus self-reliance opportunities. 3) Resettlement to a third country: criteria include medical, torture, these are what we check for, is it possible by governments to accept them?
 Sonia said after finding out one cannot be protected you go to the next country and straight ask the authorities that you are looking for protection; your life is in danger. "Examafici" is given to you until your claim is examined and you are given a refugee protection. You can appeal and you may gain it. After gaining human rights, you are no to think of a durable solution. Some are nationlised.
Benedicta said in seven countries in West Africa there are about 78, 902 Sierra Leonean and Liberian refugees.
Under local integration Benedicta gave the preparatory activities to local integration including mass information session with refugees.  2) You will stay as ECOWAS citizen with free movement. President Jammeh removing alien card for Sierra Leoneans is an already step forward.
Plans:
-           ECOWAS or national passport to guarantee your return.
-           Work permit/resident permit.
-           Liberians would be provided with identity
-           The passports would be provided by the relevant authorities.
She said application of the cessation clause in The Gambia for Sierra Leonean refugees will end at the end of 2008, UNHCR will probably declare the cessation clause for Sierra Leonean refugees. No date has been set for Liberian refugees.
Options:
1.         Voluntary repatriation to Sierra Leone or Liberia.
2.         Local integration in The Gambia as an ECOWAS citizen, those who want to resettle should do so before cessation takes place.
3.         Only refugees who register with UNHCR and GID prior to 30th June 2007.
4.         We provide $50 to kids and $100 for adults
Local integration:
Provision of national or ECOWAS passport and a residential and work permit B, aliens' card supported financially by UNHCR. Those who accept passport means you need no more international protection, no more financial assistance.
Remaining a refugee:
Upon cessation time is limited and will cease to be refugees when cessation is evoked. Sonia said she needs refugees want to remain a refugee shall verify any information. Remaining a refugee does not mean an option for resettlement. "You need to justify why you want international protection to stay here as a refugee, there should be strong fear of persecution." Sonia said.
The UNHCR has done their verification, causing some refugees to believe that they were to going for resettlement. Some believe that UNHCR was not saying the truth to them and were trying to hide the truth. After series of explanations and clarifications, more refugees still fear returning home and others have expressed their unhappiness in remaining their host country because they believe those whom they betrayed are shuttling between The Gambia and Sierra Leone and that makes it unsafe for them. They are scared about the black magic they may use to get them perish. Some who want to integrate fear that they cannot be integrated and become like true Gambians. Others pointed out the government's desire announcing that employers should have only a minimal number of foreign employees in their establishments. They believe this would limit their getting good jobs as integrated refugees.
Meanwhile Foard Kanu, the refugee president and his team are forging ahead to get people to register for repatriation, explaining that there is no simple way to resettlement that people should give their names for repatriation or integration to be on the safe side because according to UNHCR repatriation was quite slim.
The refugees expressed a lot of fear to return to their homes again. Some said they were members of some secret societies and were seen as betrayers during the war and now that the war is over they cannot go there since they have settled down they would revenge on their betrayers like them. Some said they were hunted and those who did are still behind them though not seen easily around but Gambia is not far from Sierra Leone. Foard Kanu, the president of the refugees said many have their own stories and they should be listened to. "Many houses were burnt and many refugees cannot return home. There is no place to lay their head." The refugee body appealed to the UNHCR body to consider them by helping them to resettle so as to build their families. "Many of us have appalling stories." A Liberian refugee remarked. There was talk delivered on peace building by Fabakary Kalleh.
Read Other Articles In Article (Archive)