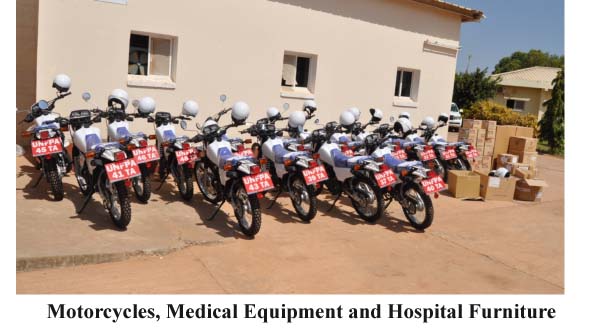 The UNFPA yesterday handed over 20 motorcycles, medical equipment and hospital furniture worth D6,063, 052 at a ceremony held at the Serrekunda Hospital in Kanifing.
The materials included 20 motorcycles worth D2,295,360.80 (Two Million Two Hundred and Ninety-Five Thousand Three Hundred and Sixty Dalasi Eight Bututs), medical equipment worth D2,756, 692 (Two million seven hundred and fifty-six thousand six hundred and ninety-two dalasis), hospital furniture worth D1,001,000.00 (One million and eleven thousand dalasis) to the Minister of Health and Social Welfare Regional Health Management Teams 7 motorcycles, Minister of Youth and Sports Regional Youth Committees 7 motorcycles, Women's Bureau 3 motorcycles, Gambia Family Planning Association 3 motorcycles, and medical equipment to the Minister of Health and Social Welfare.
Speaking at the handing-over ceremony, Ms Ade Mamonyane Lekoetje, UNFPA Resident Representative, described the gathering as very symbolic and a manifestation of UNFPA's continued commitment to delivering a world where every pregnancy is wanted, every childbirth is safe and every young person's potential is fulfilled.
"Today we are handing over to Government and implementing partners 20 motorcycles and medical equipment to support the delivery of quality services to our most important constituencies - woman and youth," she said.
Over the years, UNFPA has supported the Government and people of the Gambia towards achieving the country's development goals as outlined in Vision 2020, and the Programme for Accelerated Growth and Employment (PAGE) 2012-2015 through the United Nations Development Assistance Framework (UNDAF),the latest being UNDAF 2012-2016m she stated.
"The UNFPA – Gambia Government 7th Country Programme of Action and the new UNFPA business model make specific reference to supporting women and adolescent girls and boys. The equipment and furniture we are transferring today are to equip our partners to better address the issues of women and adolescents in terms of healthcare service delivery, capacity development and empowerment, especially at the decentralized level," she also said.
"I believe that these will contribute significantly to the health delivery system. I want to therefore call on the custodians of these materials to take great care of them and use them diligently to deliver quality services to our communities and people," she noted.
She also said: "To conclude, let me commend the Government of The Gambia for its steadfast efforts to improve the welfare of its people, particularly women and girls.
"I also want to thank the Government for its support and contribution to the UNFPA programme and the work of the entire United Nations system in the Gambia.
"Together, we will continue to strive to ensure that every pregnancy in The Gambia is wanted; that no woman dies whilst giving life. That every young person, no matter where they live, realize their full potential and that every Gambian counts."
Alieu K. Jammeh, Minister Youth and Sports, said that was the second in a very short time his minister had benefited from the benevolence of the UNFPA.
He therefore thanked the UNFPA on behalf of his minister, youth and President of the Republic of The Gambia and also assured them that the materials will be put into good use.
Omar Sey, Minister of Health and Social Welfare, described the handing over as a true indication of complementing Government efforts.
He said the materials came at a time they are about to send 25 Gambian trained doctors to all strategic located health sectors.
On behalf of Government, he thanked them for the magnificent donation.
Yankuba Dibba, Executive Director of Gambia Family Planning, gave the vote of thanks while Saikou Trawally, Director of National Population Commission Secretariat, chaired the ceremony.
Read Other Articles In Article (Archive)