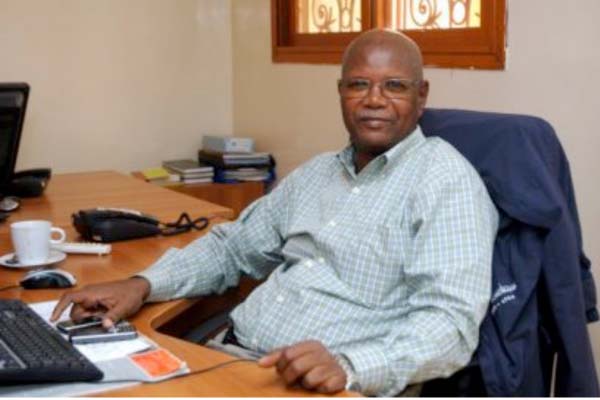 The new minister of Information and Communication could be a model for media independence in The Gambia for he has spent his lifetime fighting for freedom of expression and that of the press, said Sasha Rubel, a UNESCO communications specialist based in Dakar, Senegal.

Ms Rubel said the appointment of Demba Ali Jawo as the minister of information "is indeed to be celebrated".
"We believe that he will surely be a model for media diversity, pluralism and independence so central to any democracy," she said on Friday at a three-day retreat to validate the adjusted curriculum of the Gambia Press Union (GPU) School of Journalism at a local hotel in Kololi.
Gambia's stifled press for 22 years is currently enjoying freedom following the election of a new government that promises promotion and protection of press freedom and freedom of expression.
Front Page International understands that previous ministers of information significantly contributed to the formulation of laws specifically meant to stifle free expression - encouraging violent attacks on journalists and media houses.
Well placed
Rubel said Mr Jawo "is well placed to champion the importance of freedom of expression and access to information in a Gambia whose transition and growth will surely rely in an engaged and independent press – the fourth pillar of any democracy."
The UN agency, UNESCO, has a specific mandate to foster freedom of expression and its corollaries – press freedom and freedom of information.
She said the agency sees these rights as crucial foundations of democracy, development and dialogue and as preconditions for protecting and promoting all other human rights.
"In this regard, UNESCO looks forward to accompanying the ministry and Gambia in the fostering of a dynamic and independent media landscape," she said. "For peace to be lasting and development to be sustainable, human rights must be respected."
International human rights instruments provide for the rights of people seek, receive and impart knowledge and information on all media platforms.
Guardians of human rights
Mr Jawo has been a member of the GPU for almost 40 years, serving as its president at some point. He also co-authored a book documenting the life of murdered journalist, Deyda Hydara.
According to Rubel, Jawo's role as minister in the coming years will promote an independent press and freedom of expression which are crucial to sustainable development.
She also said that media professionals are the guardians of human rights in any country and the GPU is uniquely placed to champion human rights in The Gambia.
She said UNESCO looks forward to continue accompanying the GPU and the ministry of information in this transition to make sure that human rights are respected and enjoyed by all in The Gambia.
Read Other Articles In Article (Archive)