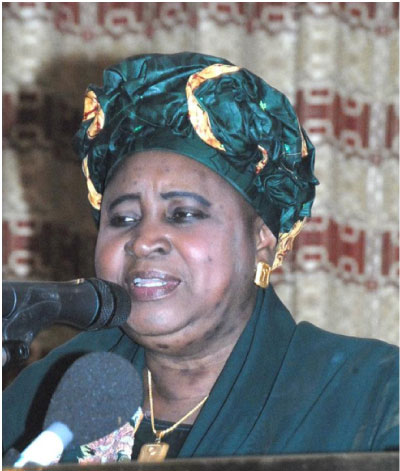 The 2013 UNDP Human Development Report was recently launched at the Kairaba Beach Hotel, by the Vice-President and Minister of Women Affairs, Dr Isatou Njie-Saidy.
The launch ceremony was attended by senior government officials, UN agencies and a host of development partners.
Delivering her statement, the Vice-President, Njie-Saidy, said the 2013 HDR, entitled: The Rise of the South; Human Progress in a Diverse World, was launched globally on the 14th March 2013 in Mexico City, by President Enrique Peria Nieto of Mexico and UNDP Administrator, Helen Clark.
"Suffice to say, this report contributes immensely to the body of knowledge and will enlighten us in the South on what we can do for ourselves rather than looking forward to the North for solutions to our human development challenges. The report consists of five chapters, namely the state of human development, a more global south, and drivers of development transformation, sustaining momentum and governance and partnerships for a new era," she said.
"The report, according to the VP, examines the profound shift in global dynamics driven by the fast-rising power of developing world and further explains its implications for human development.
"It looks at the evolving geopolitics of our times, explored emerging issues and trends and also the new actors which are shaping the development landscape," she said.
The report contains useful statistical annexes that are helpful for both regional and country comparisosn in items of human progress attained.
For her part, the UNDP resident representative, Izumi Motota-Alakija, thanked the participants for their presence at the launch of the report.
According to her, through the years, Human Development Reports have addressed a range of pressing global challenges and have reaffirmed that development is about enlarging people's choices and capabilities.
"The first of these reports which was first published in 1990, called for a paradigm shift in the measurement of development progress to put people at its very centre.  It defines human development as a process of enlarging people's freedoms, choices and capabilities, and created the Human Development Index (HDI) in order to move beyond the traditional GDP measure for assessing the state of the country's development, to a summary composite index that measures a country's average achievements in three basic aspects of human development: health, knowledge, and income," she concluded.
Read Other Articles In Article (Archive)