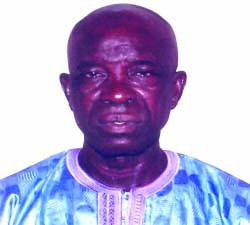 At least 18 out of 25 sporting associations affiliated to The Gambia National Olympic Committee (GNOC) on Saturday converged at the Olympic House to take part in the Ordinary Session of the General Assembly of the GNOC.
The meeting, held every year, was designed to review the activities of the GNOC, confirm the audited accounts and approve the budget and calendar of activities.
The weekend's Assembly, which marked the first General Assembly of the GNOC since 2009, dealt with the calendar of activities of the Committee between January and December of 2009.
GNOC president Alhajie Momodou Dibba, who took office five months ago, in his 17-page speech welcomed everyone for taking part in the first GNOC Annual General Assembly since the election of its Executive Bureau in 2009.
"In retrospect, let me hasten to place some issues in their proper perspectives and therefore use the occasion to offer consolation," he said.
The GNOC Executive Bureau was elected into office in June 2009 midway into the quadrennial under the former president, Lang Tombong Tamba.
Several months into his tenure, his presidency was curtailed and the 1st Vice President took over the constitutional responsibilities to steer the affairs of the GNOC on an acting capacity pending the election of the new president.
In 2010, the secretary general also resigned at a time when the general assembly would have been held.
"This period coincided with an investigation into the internal operations of the GNOC which culminated into the court litigation and involved some key personnel of the Bureau and the secretariat," said Dibba.
He added: "I must implore you the delegates and crave your indulgence to recognise the discomforts that these bring to bear to this institution, which has been heralded as the envy of NOCs in the Olympic family.
"Let me seize this opportunity to commend the IOC through the NOC relations department and ANOCA for the magnanimous support and unflinching solidarity as we thrive through these perverse experiences."
Dibba continued his speech dilating on numerous issues ranging from setting up of various committees to looking into the affairs of other GNOC activities, IOC matters, the Olympic solidarity and the Association of National Olympic Committee.
The General Assembly also witnessed the presentation of the GNOC's financial statement by its treasurer, Ousman Wadda, whilst Peter Prom, secretary general of the GNOC, reported on GNOC's activities from January to December 2009.
Read Other Articles In Article (Archive)