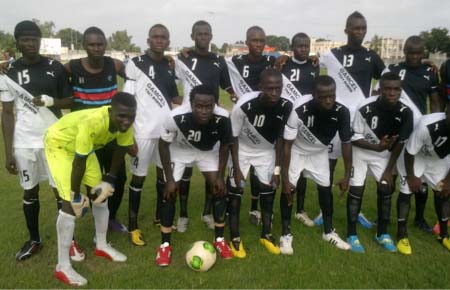 Six major nawetan zones are set to stage their annual summer biggest prestigious football championship traditional curtain raiser this weekend.
In Serrekunda East, 2013-2014 league champions Milan FC will rub-shoulders with 2013-2014 knockout champions Medina in the all-Tallinding derby clash in the 2014 Serrekunda East Super Cup final set for today at the Serrekunda East Mini Stadium.
The local derby is expected to attract spectators from Serrekunda East and its environs for the zone's traditional curtain raiser and both sides will be aiming for a win to claim the Super Cup title.
In Serrekunda West, Kanifing United FC will clash with Tigers FC in the 2014 Serrekunda West Super Cup final slated for Sunday 24 August 2014, at the Serrekunda West Mini Stadium.
Kanifing United FC and Tigers FC are two household names in Serrekunda West Nawetan and won series of trophies and accolades in the zone's summer biggest football fiesta.
The Super Cup final tie between the two sides is described by many football admirers in Serrekunda West as a nail-biting clash.
In Gunjur, reigning league champions Steve Biko FC will entertain Alex Sanchaba FC in the 2014 Karamba Touray sponsored Super Cup final today at the Gunjur Nymina Football Field.
Today's Super Cup final meeting will be the second meeting of Steve Biko FC and Alex Sanchaba FC in the town's annual summer biggest football festivity better known as nawetan.
Steve Biko FC thumped Alex Sanchaba FC 2-0 in the league semi-final before beating Sunderland FC 1-0 in the league final to clinch the trophy.
Alex Sanchaba defeated Steve on penalties in the knockout, after the regulation time failed to produce a winner.
Both sides will be fighting tooth and nail for a win against each other to lift the Super Cup title.
In Manjai, league champions Bayern Central FC will battle it out with Marimoo FC in the 2014 Manjai Alkalo's trophy final on Saturday 23 August 2014, at the Father Gough Sports Complex in Manjai.
In Brufut, Kaye FC are set to wrestle with Willingkama FC in the 2014-2015 late Mamudou Max Jallow Memorial Brufut Nawetan curtain raiser billed for Saturday 23 August 2014, at the Brufut Lower Basic School Football field.
In Sukuta, league champions Nema Youths FC will fight with knockout champions O.C Lavik FC in the 2014 Sukuta Super Cup final on Saturday 23 August 2014, at the Dembadou Mini Stadium.
Read Other Articles In Article (Archive)