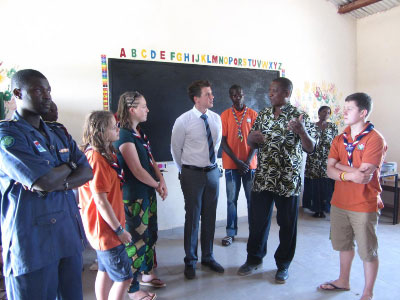 A group of 30 UK scouts, aged between 14 – 18 years visited The Gambia and the town of Soma earlier this month, as part of a longstanding volunteer scout exchange programme with Kaira Konko Scouts in Soma for over 20 years.
The UK volunteers who came from Hampshire and West Sussex in the UK had spent two weeks in The Gambia volunteering on a wide range of projects in Soma.
The young scouts volunteered their time to help with a number of projects, which included helping construct a new garden wall at Soma New Lower Basic School, painting and refurbishing a nursery and repairing school furniture at Soma Proper Lower Basic School, painting classrooms and improving vegetable gardens at Pakallinding Lower Basic School, as well as helping rebuild local flood damaged homes.
The UK Scouts were engaged in fundraising exercises in their local communities to be able to pay for their visits and ship a container full of books, water carriers, stationeries and equipment.
In addition, the group also collected enough to be able to purchase and donate over 500 mosquito nets to the nearby community of Fonkoi Kunda.
The UK Deputy High Commissioner, George Sherriff, earlier this month visited Soma to meet with the young UK volunteers and to have a firsthand knowledge of the community of Soma.
Commenting after his visit, Deputy High Commissioner George Sherriff, said "It was a pleasure to meet so many young, enthusiastic and hard working UK scouts, who have come to The Gambia to give up their time and make a real difference to the community of Soma.
Everywhere I visited I heard nothing but praise from the local community for the UK scouts and their dedication to their volunteer work. The relationship between the Kaira Konko Scouts in Soma through the excellent work of Lamin Kinteh MBE and the community of Hampshire in the UK continues to go from strength to strength and is a great example of the close links that bind the people of The Gambia and the people of the United Kingdom."
Kaira Konko Scout Lodge was opened in 1998 by the then UK High Commissioner. The aim of Scouting at Kaira Konko is to try to offer opportunities for training and, where possible, employment to the Scouts of Soma.
Any profit that is made is reinvested in Kaira Konko to improve facilities and Scouting equipment. Donations from the UK support the Scouts' education, provides rice for the poorest families and emergency funds for house repairs, medical fees and emergency community projects, such as well repairs.
Read Other Articles In Article (Archive)