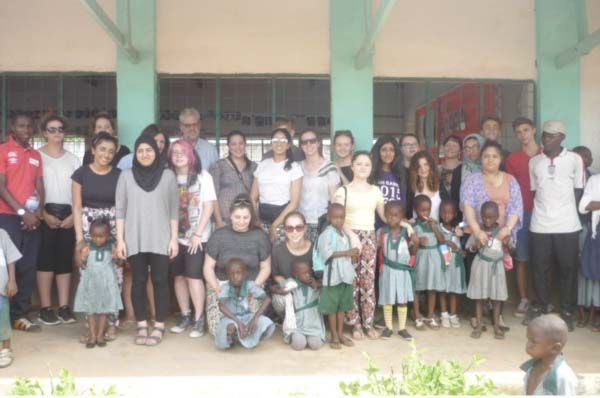 Hamstead Hall School in UK Wednesday visited and donated teaching and learning materials as well as food items to Jemus Junkung Jammeh Memorial Lower Basic School in Abuko.
The UK school began construction of a nursery school at the memorial school in 2007.It was completed in 2009.
The school started enrollment with 20 pupils in 2009; now it has about 200 pupils with four classrooms.
Peter Evans from Hamstead Hall School said they have plans to build a 5th classroom at the nursery school next year.
He explained that every year they raise money and come to The Gambia with students in Sixth Form to support the school's project.
Mr Evans said if children are well-educated, they grow up to become doctors, lawyers, solicitors, engineers among others.
He said their help is not just about giving away but also working together as a team.He explained that their students from the UK learn a lot by coming to The Gambia and that helps them to become even better people when they return.
"Coming to The Gambia also gives our students a more balanced view of the world and understanding that they have some global responsibilities," Mr Evans said.
Janice Hamilton, a student in Sixth Form said apart from the construction of classrooms, they are providing learning and teaching materials, food items, and salaries of the nursery school teachers.
She is from Solihull, the UK, but has partnered with Hamstead Hall School three years ago in supporting the Gambian school
The UK student said this year, they have brought some computers for the Jemus Junkung Jammeh Memorial Lower Basic School and they plan to build a computer room for the school in the near future.
Abdou Rahman Bah, coordinator of the nursery school project, applauded the donors for their continued support to the school.
He said thanks to the support of the donors, the nursery school is one of the fastest growing schools in Abuko although it is one of the youngest in the community.
Read Other Articles In Article (Archive)