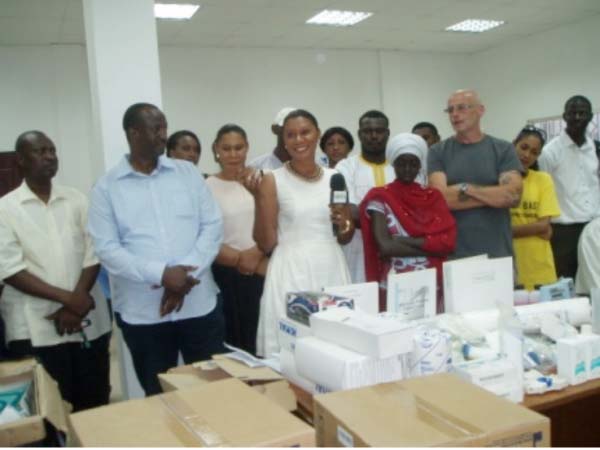 Ida Bass Kidney Foundation, a UK-based charitable organization founded by a Gambian in June 2013, on Monday donated medical items, and 12 kidney dialysis worth about D5.3 million to the newly built Haemodialysis Unit at the Edward Francis Small Teaching Hospital's Children's wing (EFSTH).
The presentation ceremony took place at the Children's Wing of the newly built Haemodialysis Unit of the EFSTH.
In his remarks on the occasion, Health and Social Welfare Minister Omar Sey expressed his profound gratitude at receiving the donation, from a concerned Gambian living abroad.
Minister Sey said this would help to a great extent in the treatment of Kidney patients, as the hospital had insufficient machines and equipment for treatment of Kidney.
The gesture would help to reduce the burden of going for overseas treatment on Kidney diseases, he added.
"We are committed to this project and would assure you that we are ready to work closely with Ida Bass Foundation in the development of health issues, especially on Kidney diseases," he said.
The health minister further thanked the donors on behalf of the Gambian government, for the 'invaluable' gesture.
In her remarks, Sailey Flasrud, founder of the Ida Bass Kidney Foundation based in the UK, said: "I was challenged when my mother died few years ago through a kidney failure. So I decided to come with this initiative to help the Haemodialysis Unit at the EFSTH.
"Since then the charity has worked tirelessly in improving Kidney care in The Gambia, this includes providing dialysis equipment, medical equipment for kidney patients and also training of health personnel."
She said she has been donating medical equipment since last year.
According to Madam Sailey, the Ida Bass foundation is working on signing an MoU with the Ministry of Health but is yet to be established, due to some processes it has to undergo.
"We donated 12 Dialysis machines, a water treatment plant, general supply consumables, medical equipment among others," she said.
The project of the new Haemodialysis Unit in the EFSTH started in May last year, when the building was already under construction, she also said: "It was last year may when we decided to convert it to Haemodialysis Centre; so few adjustments and extension were made."
She had continued to try very hard to ensure the completion of the building and would hope through the commitment of the government and the ministry that would be achieved before her coming back to The Gambia in January 2016 for its official inauguration.
The Public relations Officer, Momodou Lamin Jammeh, revealed that the building is containing a ward for patients, a water treatment centre, reception area for the escort of patients, 3 offices and 5 toilet facilities, which is about D4 million.
The Foundation was highly commended by all the speakers on the occasion, including head of Nephrology Dr Lamin S. Sima and Chief Medical Doctor at EFSTH, Professor Khalil.
Read Other Articles In Article (Archive)