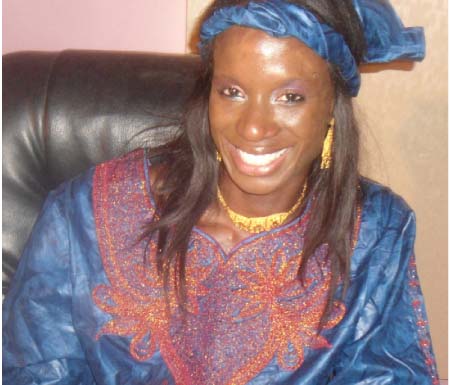 Nusrat Ceesay, a UK-based Gambian star athlete, who joined a host of other popular international sports personalities in gracing the third edition of the annual Sports Journalists Association of The Gambia's award ceremony held on 2 July at the Jerma Beach Hotel in Kololi, has said The Gambia has many talented athletes.
Ceesay also says she wants to help put The Gambia on the world map of athletic nations, not just for herself but also to help young and upcoming athletes, especially women and young girls, so they can be involved in the sport before she retires.
The 30-year-old, who left Banjul for London last Thursday after spending a week in The Gambia, added that Fatou Sowe is one of the young talented athletes who have been doing well. "I have been talking to her and I want to encourage her to do more," she said.
The UK-based Gambian star, who won the UK athletics championships in the 400m hurdles in July 2009, also noted: "The Gambia is my country and to run for The Gambia now as a Gambian national record holder would be great. It is going to be amazing when I receive my first Gambian vest, because this is my homeland."
She said further: "There are so much talented athletes out there in schools who are yet to be recognised; so hopefully we can find young athletes and make The Gambia competitive in the world. We need to get many people involved in sport in The Gambia, if possible - financially, because we need their backing to get to championships.
"Without finances we cannot fly to competitions or be accommodated anywhere; so we need to get sponsors involved in Gambian sport. There can be sponsors there but they might not know how they could help or who to speak to. So it is a case of me doing my homework well, approaching people and letting them know that I am running for The Gambia now."
Ceesay noted that the SJAG award ceremony was well organised, saying she spent only a week in The Gambia but it was like she had spent a month. The Gambian star athlete says she is looking forward to coming back home to attend many more award ceremonies.
She concluded by saying: "Thank you everyone for the help you rendered to me; all the journalists I spoke to are great; the places, restaurants, clubs I went to are fantastic, and I am looking forward to coming back next year."
Read Other Articles In Article (Archive)