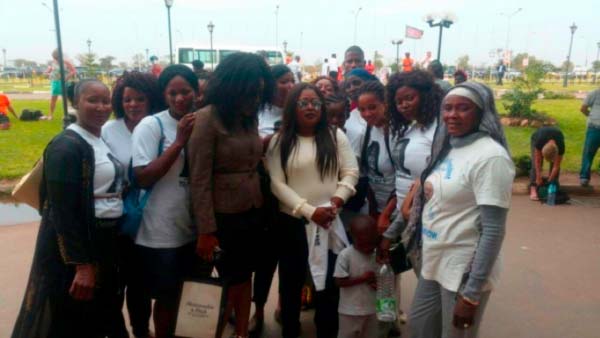 Faith Cole, a UK-based Gambian philanthropist, recently arrived in The Gambia to continue her contribution to the development of the country to complement the efforts of the new government.

The lady was received on arrival at Banjul International Airport by officials of the coalition government led by Amadou Bah, a protocol officer.
Speaking to journalists at the airport, Ms Cole said she has been planning to come home since last year, but it could not work due to the heated political situation then.
"So I am home again, and I want to meet President Adama Barrow because I feel I am an asset to The Gambia, because of my expertise and experience having lived and work abroad for many years. I think I can contribute to the development of this country.
"Gambia has invested in my life, because when I was at school as Methodist and Gambia High, I paid no school fees because I had a scholarship. The country had invested in me, and then when I started doing my business and I made some money, I started to come home to pay back to Gambians."
She said she has already outlined areas that her development interventions would be more focused on, and these include child education, women's health and health in general.
"I have been working in the health sector in London, so it is the sector I know best," the UK-based Gambian said.
"So I feel that I could contribute to the health sector very much. I know the sector here needs a major revamp to reduce the mortality ratio and make the country a healthy nation.
"This is why when I got information that Gambia has a new government I was extremely happy because, unfortunately during President Jammeh's era, the situation was getting worse, and the sad situation was that people lose their lives unnecessarily, and investors could not come because they knew they would be at risk of losing their investment.
"Nobody with a sound brain will come and invest millions of dollars into a country when you know that within a year you could be sent parking."
Thank God, she said, that situation is over now.
Read Other Articles In Article (Archive)