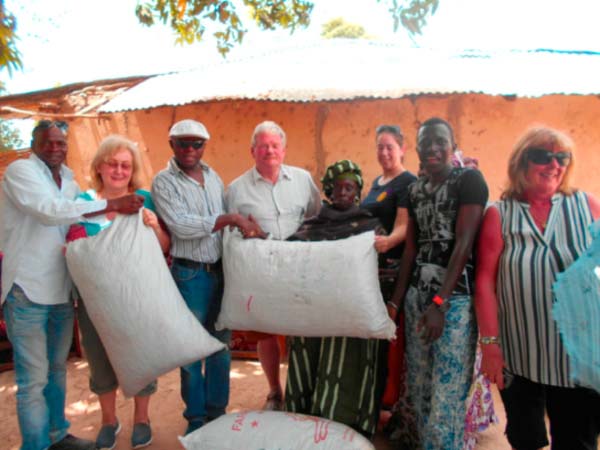 Members of the Rotary Club of Royden Revolve based in the UK in collaboration with Rotarian Sainey Manneh, co-founder of Swiss-Gambia Foundation, Saturday visited Brumen village in Foni Jarrol in the West Coast Region.

The team was spearheaded by Rotarian Sainey Manneh, and the purpose of the visit was to accord the UK Rotary members the opportunity to visit the ongoing projects such as the women's garden and boreholes in the village.
Rotarian Manneh through the Swiss-Gambia Foundation also donated second-hand clothes to the community of Brumen village.
The aim of the visit was also to enable the members of the Rotary Club of Royden Revolve of UK to get first-hand information from the villagers, and see possible areas to support them in the future.
Speaking at the sites, the Alkalo of the village, Modou Colley, welcomed Sainey Manneh and thanked them for the visit.
He noted that their visit was very timely and important, and showed the love they have for his community, adding that they are very grateful for the visit.
"We are very much excited with Mr Manneh for providing the community with a borehole in supporting the women's garden, as well as providing second-hand clothes to the community."
Also speaking was Nyamo Badjie, of the council of elders, who also expressed similar sentiments, saying Sainey Manneh's support to the community was a necessity for the villagers.
The intervention in providing the community with a garden and borehole for potable water was long overdue, but timely, he said.
"We acknowledge Mr Manneh's contribution toward the development of Brumen village in supporting them with such basic needs, which was geared toward enhancing our livelihood," Mr Badjie further stated.
Alfusainey Jallow, president of Bollongdalla Family Kafoo in Brumen village, thanked them for the visit, describing it as a big gesture to the villagers.
"We have to be more committed, especially in finishing the boreholes, and to make sure that the garden is operational in the next two months to come," he said.
Aja Bintu Colley, women's president and Sutay Bah, public relations officer of Bollongdalla Family Fafoo, both expressed gratitude to Mr Manneh and his partner philanthropists for what they are rendering to the community of Brumen village.
"We are grateful for Mr Manneh's intervention in ensuring that the community of Brumen gets access to potable water and a garden."
Rotarian Sainey Manneh, who headed the delegation, returned gratitude to the community of Brumen village for their hospitality, and urged them to stay united and committed.
Mr Manneh told them that all their concerns were well noted, while assuring them that their concerns would be addressed within a short time.
Read Other Articles In Article (Archive)