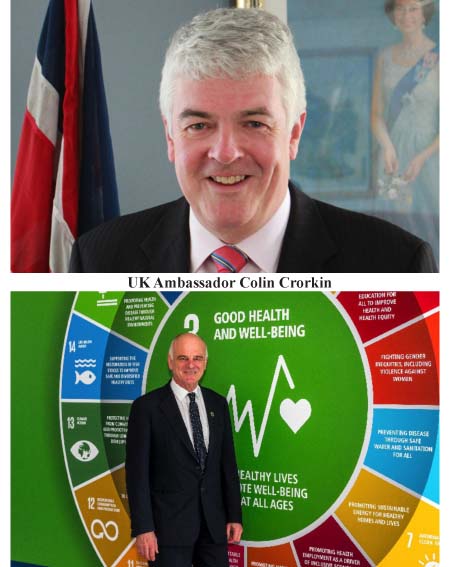 On 23 May health ministers from around the world will gather in Geneva to vote for a new Director-General of the World Health Organisation (WHO).

It's a hugely important election for The Gambia, Africa and the wider world.
The WHO determines how the international community responds to the growing threat of deadly diseases and pandemics, and helps people everywhere get access to the health care they need.
Huge progress has been made in making the world a healthier place. Major killers like malaria and polio have been dramatically reduced.
But our world is challenged by a changing climate, violent conflict, persistent poverty and poor nutrition.
And the world is not immune to killer diseases. The Ebola outbreak in West Africa showed how diseases can devastate communities, and have a lasting impact on whole countries.
Leading the global fight against Ebola was UN special envoy Dr David Nabarro. He is now running in the election to become WHO Director-General.
Dr Nabarro's experience is unrivalled – he has spent over 40 years in international public health as a medical doctor, educator, international public servant and diplomat.
He is the only candidate with experience of leading the world in responding to disease outbreaks like Ebola and avian influenza, and has worked on the frontline in over 50 countries including Senegal, Sierra Leone, South Africa, Tanzania and Zambia.
If he is elected, the WHO will have the technical expertise and leadership it needs to tackle a global health emergency.
But the WHO also needs an upgrade so it can respond to the challenges the world faces, better and more quickly. The election of a new Director-General is a real opportunity to see positive change.
Too many people in The Gambia face preventable death, disease and suffering in their daily lives. And it is the poorest and most vulnerable people that struggle the most. They are often blocked from access to good health care, exposed to disease-prone environments or forced to drink unsafe drinking water. We need a system that works for everyone.
The WHO needs to continue reforming and improving. The best health security systems and programmes will help prevent and reduce illness, and keep us as safe as possible from disease.
The UK will continue to lead global efforts to fight deadly diseases that blight the lives of millions around the world, while helping countries to build stronger health systems.
And we will push for international organisations to improve so that they can protect us. The world deserves nothing less, and that is why the WHO needs Dr Nabarro.
Author: Colin Crorkin
British Ambassador
Read Other Articles In Article (Archive)