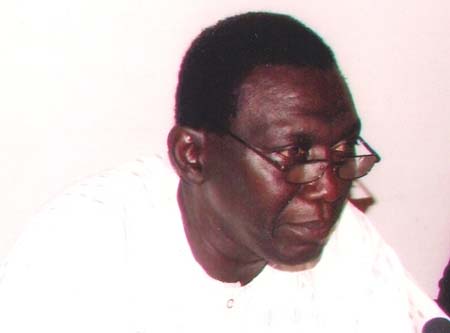 Mr. Ousman Nyang, the Director General of the National Training Authority (NTA) has said that development especially, educational development is a long process that everyone should be responding to.
He stated that the long range development impact that everybody aspires for in the country can only come through visionary leadership of a well-informed, clear-sighted, professionally committed and resourceful managers at all levels.
Mr. Nyang, who was speaking recently at the 2nd award and graduation ceremony of 26 form five students at Apple Tree International School in Kololi, said the hopes and wishes are easy to express, but everybody knows that the management task of education in The Gambia has never been easy.
"Some grandaunts are thinking of what to do after their graduation, some are thinking life after school and others are thinking of what the next steps are going to be," he said, adding that the world is full of challenges and obstacles, which can be either useful or destructive. He said for the past years, major changes have taken place in the world of scientific and technological education and training, which have profound implications for human society in general and for international co-operation, in particular.
"The challenge to both public and private institutions and the challenge to each individual are formidable," the NTA boss said, adding that in 1988, The Gambia had adopted a new 15-year education policy, which was designed to restructure the country?s education system with a view to improve the quality and relevance of educational service, while at the same time expanding these services for the majority of Gambians.  
Giving his annual school report, the Principal of Apple Tree International School, Mr. Kogyan Owusu said his school was founded in 1997. He revealed that the enrolment of his school is 802, out of which 75% are girls and 25% are boys. He said his administration will do a lot of provision for the kindergarten, nursery and lower basic schools. Principal Owusu said his school is not only teaching students to get quality education, but also teaching them to become responsible citizens in the near future.
The merit awards for the best science and maths students went to Bintou Kanyi, while Fatoyumatta B. Jobe received both the best Language and Humanities awards.
Academic prizes for the best students in class went to 6 students in primary school, 3 students in nursery school and 5 students in form five. Nursery, primary and high schools each received the most industrious prizes, while the most disciplined award went to students at both the primary and high school.
Neatness awards were received by 7 students from nursery, while the best sports male and sports female awards went to nursery, primary and high schools students.
Seven teachers received the principal's award. The executive award, which was the highest award, went to Sophie Mendy.
Read Other Articles In Article (Archive)