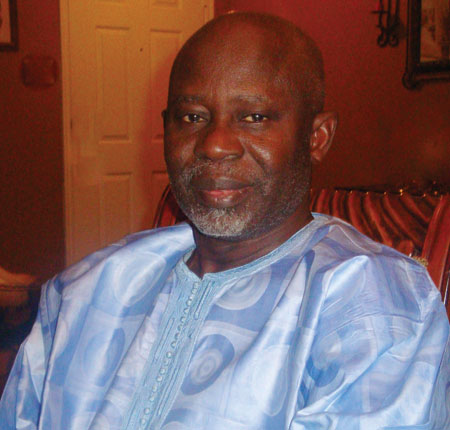 The secretary general and leader of the main opposition United Democratic Party (UDP) has expressed his confidence in winning the November 24th presidential election, despite failed talks by opposition parties to form a united front.
Lawyer Ousainou Darboe was speaking yesterday at a press conference held at the UDP political bureau in Banjul.
The press conference, attended by a cross-section of the UDP leadership, was meant to brief the press about the failed attempt to form the proposed opposition alliance.
According to the UDP leader, come November 24th there would be a change of government in The Gambia.
"I am sure that in this election Yahya Jammeh would be out," declared Lawyer Darboe.
The country's main opposition party leader added that, as far as this year's election is concerned, nothing can prevent a change.
Noting that his party's women and youth wings are criss-crossing the country, and that he himself was also touring parts of the country, Darboe said he has seen in the people that they want a change of government, and that some people in the APRC camp are just there for a short period.
"In fact, you would see some women cross-carpeting to UDP soon," Darboe announced.
In his own words: "Those proclaiming 90% victory for APRC are just saying so to please the leadership."
Failed United Front
Commenting on their failure to agree on an opposition united front to challenge the ruling party, Darboe said, in August this year, his party wrote a letter to all other opposition parties for them to come together and form an alliance.
The UDP leader said after their meetings and consultations, they failed to agree on a common platform in choosing a flag bearer.
He said whereas his party's position is for a party-led alliance, others including the PDOIS are calling for a convention to choose the candidate for the opposition alliance.
"Our position was for a party-led candidate, which is the accepted norm throughout the world, when parties are forming an alliance," he added.
"We do not see the viewpoint of other opposition parties viable at this point in time," Darboe told journalists, in the midst of several UDP militants in attendance.
He believes that The Gambia has a problem that is solvable, and that his party has a viable solution that could solve it.
The veteran politician pointed out that they have made it clear that under a UDP-led opposition alliance, no party would be wiped away.
He argued that they the UDP have advanced arguments that during National Assembly elections, for instance, parties that formed the alliance would be allowed to put up candidates in constituencies where they are strong. 
He stressed that in a UDP-led alliance, the public media would be open to all parties involved for scrutiny. "Ownership in an alliance depends on the parties," he further stated.
Darboe used the opportunity to appeal to PDOIS, NRP and GPDP to reconsider their positions, and stressed that, with regard to the NRP, he was not sure if they are also calling for a convention, but if that is the case he is appealing to them to endorse a party-led alliance.
"I have a party going with me, and if those advocating for a convention could also join us, that is fine," Darboe said.
The opposition leader stressed that since 2000, Gambians in the Diaspora, particularly those in the UK and US, have being advocating for an opposition alliance, and that his party has never been found wanting in advancing that cause.
"We have not agreed on a common candidate, but consultations can still continue. Up to Nomination Day we can have a common candidate," Darboe told journalists.
Read Other Articles In Article (Archive)