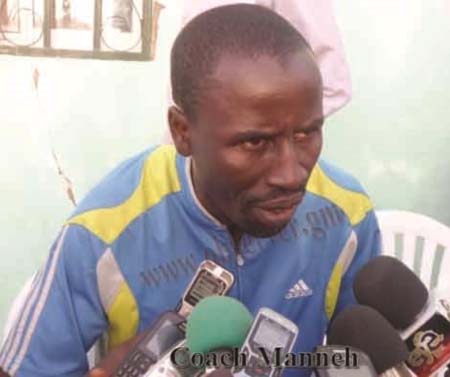 The Gambia National U-20 team is expected to leave Banjul today for Monrovia, Liberia, for its first leg 2015 Africa Youth Championship qualifier to be played on Sunday 6 April 2014.
Speaking to reporters on Tuesday at the Box Bar Mini Stadium in Brikama following his side's final warm-up game ahead of the 6th-April encounter, Tapha Manneh, head coach of Gambia National U-20 team, said that, according to information he received from the Gambia Football Federation (GFF), they will leave Banjul for Monrovia today, Thursday.
Head coach Manneh also confirmed that he would leave with 20 players but will be without Sulayman Marreh, who recently signed for Granada and Hamza Barry of Malletta.
He said they were still on trial and believed they had achieved something following a 1-all draw with the local national team in the third and final warm-up game in preparation for their away clash against Liberia.
He added that about 7 players were replaced during the 90 minutes, adding that overall they are doing well.
For the previous two test games they were playing almost the same players, he stated that in the third game they were trying to see other players too as they cannot depend on one squad.
They brought the other player in to have game fitness as well, he noted, saying they also did very well - despite keeping a clean sheet in the previous two games they conceded in the final test game.
They played a different tactic using 4-4-2 for the start but when they changed the play, they played 3 players at the back (defenders).
Following the 1-all draw, they will go back and prepare themselves, as well as rectify their mistakes before Sunday, Manneh said, after his side conceded a goal in its final friendly encounter.
It is not possible to get Sulayman Marreh because he recently signed with a club in Spain (Granada), he said, adding it is difficult for the FA to get the player because the competition is not in the FIFA list.
For Hamza Barry, he said they had a promise to get him join the squad but at the last minute his club failed to release him.
Nonetheless, they have replaced them and will as well utilize the other four foreign-based players (Saloum Faal, Bakary Daffeh, Ali Sowe and goalkeeper Bubacarr Sanyang), he added.
Manneh said they will travel to Liberia with 20 players, adding that, according to the signal he got from the GFF they would leave Banjul for Liberia today, Thursday.
They were supposed to go to camp on Tuesday after the test game against the local squad, he said, adding that, as at the end of the test game on Tuesday everything was okay with the team.
It is difficult to say everything is okay after the test game because they do not know what they will find in Liberia, he stated further.
For the preparation of the weekend encounter 70 percent is okay, he went on, saying they are hoping to put up a respectable performance in Liberia.
The players are confident and everybody is ready for the game, he also said, according to their findings the Gambia is a bit over Liberia.
He called on everybody to pray for the team to go and return safely as he knows their fans cannot be in Liberia. "We need everybody's prayers," he said.
Read Other Articles In Article (Archive)