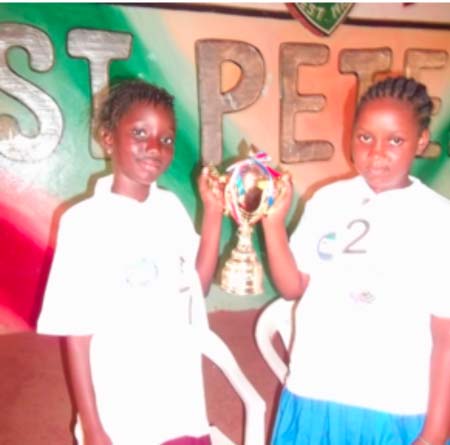 Two students, Jainaba Jallow and Aisha Jagne of St. Peter's Primary School and SBEC International School, have emerged champions of the TAKE-M national spelling championship.
The two finalists led the audience to a wild amazement and left the judges with no choice after a long battle between the two, but to finally declare them as co-winners.
The national championship, held at the St. Peter's Primary School in Lamin village, brought together over ten pre-selected students from across the regions. The competition was also witnessed by parents and friends.
Initiated by a Nigerian national, one Tunde Mugi Ogundimu, the spelling championship was set to develop the minds of children from the grassroots level in basic knowledge, especially in English language.
It was also set out to develop the children to have an excellent spelling skills and good knowledge of vocabulary, described as a right move for the children, as well as motivation and good guidance towards achieving quality education.
The organization, established over a year ago, conducted various regional spelling competitions in various schools prior to the national championship.
Winners went home with a trophy, prizes and certificates while others went home with prizes and certificates.
Speaking to The Point, the coordinator and CEO of TAKE-M organization, Mr Munde said, the organization, which focuses on lower basic level students, was set out to contribute to developing children in academics, particularly in spelling, and to inculcate self-confidence in them.
He said staging spelling competition at the lower basic level could serve as good foundation for schoolchildren before they would get to the secondary level.
He thanked Unique Solutions and RLG Company for supporting the event.
Co-winner Jainaba Jallow said she was very grateful in winning the championship, which she described as tough.
She acknowledged her opponents as tough contestants.
The other co-winner, Aisha Jagne, said she felt great to emerge a winner, hence would dedicate the trophy to her mother and sister.
Read Other Articles In Article (Archive)