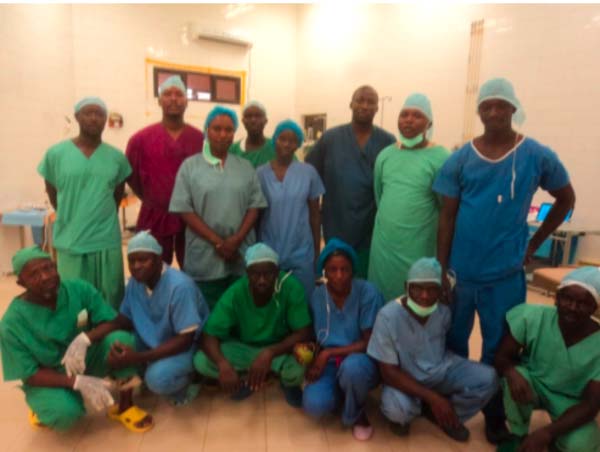 AFPRC General Hospital Hernia Operation Camp, a non-profit-making health team consisting of medical officers, anaesthetists, nurses, orderlies and hospital management, recently organised a three-day Hernia camp and operated patients with hernias and other minor surgical cases.
Hernia is the most common surgical condition in many African countries and the provision of such medical care is vital as it has been providing big relief to patients and their families.
The idea originated from an organisation called "Hernia International", a worldwide charitable organisation, operating especially in developing countries.
The Chief Executive Officer of AFPRC General Hospital in Farafeni in the North Bank Region, Dr Mamadi Cham, underscored the hospital's commitment to carrying out hernia operation.
He said the hospital is very much committed to providing surgical services for the rural population in North Bank Region.
He recalled that in February this year the hospital provided services to 56 patients, adding that he was satisfied with the outcome of the services.
He also said that on the first leg of the exercise 56 patients were successfully operated on in four days with no complication.
The second leg of the operation was necessitated by the many people in the communities suffering from hernia and who needed operation, said Dr Cham, who calls on people suffering from hernia to report to the hospital on time for treatment.
The camp was organised in collaboration with Kuntaur Major Health Centre in Central River Region to ensure proper services are provided to people with hernia, he said.
He thanked the management and staff of the hospital for their steadfastness.
The surgery medical officer at AFPRC General Hospital, Dr Lamin Janneh, coordinated and booked patients, with support from the hospital management together with the surgical and theatre staff.
The surgical teams consisted of the medical officer of Bansang Hospital, Dr Segun Grey-Johnson, and the medical officer of Kuntaur Major Health Centre, Dr Lucas Jatta with his team, who took part in the operation camp.
During the period, about 43 patients were operated on with various surgical conditions like hernia (Inguinal, inguino-scrotal, epigastric, umbilical and congenital hernia) and hydroceles.
Other patients with lipomas, cysts and ganglions were also operated on with 100 per cent success cases.
The objectives of the camp include expediting and reducing the waiting time of operation for patients in need of such urgent care, as well as preventing the complications of hernia such as intestinal obstruction, strangulation and others that would result to high mortality and morbidity
Lessons learnt from the Hernia Camp also include good management and willingness of health care providers to work as a team so that great success could be achieved.
Importance of Patient satisfaction and effective care delivery was also learnt from the camp
Wandifa Samateh, hospital administrator, thanked the surgical team of the hospital and the visiting doctors, as well as their team from Kuntaur Major Health Centre and Bansang Hospital, for their steadfastness in providing quality treatment and support.
He maintained that the hospital management is committed to patient-centred care and would continue to do anything within its means to ensure quality, effective, efficient and affordable tertiary health care services. 
Read Other Articles In Article (Archive)