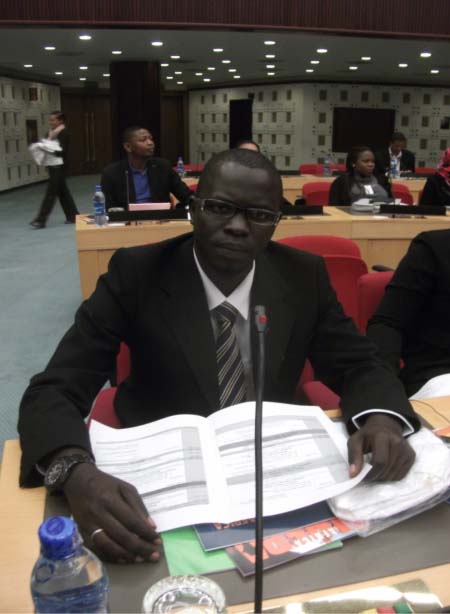 A two-man delegation recently returned from attending a two-day African Regional Conference on population and development held at the United Nations conference centre in Addis Ababa, Ethiopia.
The event, attended by more than 150 young people, deliberated on sexual and reproductive health, education, employment and inclusive participation, security and governance.
The delegation included the chairman of the Network of Adolescents and Youth on Population and Development (NAYPOD), Lamin Marong, and youth coordinator of the Gambia Family Planning Association, Kassamanding Touray.
The duo's participation was funded by the United Nations Population Fund (UNFPA).
Speaking to The Point about the conference, chairman Marong said the representation of the Gambian team focused on youth matters.
He said they emphasized the need for the inclusion of young people in decision-making process in all countries.
The conference also discussed key issues which include health, education for all, and security, and creating employment opportunities for young people, he said.
He also said the health concern was however shifted to the issue of HIV and STI which are commodities of sexual reproductive health.
These issues, he said, need to be nurtured from the grassroots, emphasizing the need for people to do more in reducing the epidemic of HIV and STI.
According to him, the conference also called on governments and development partners to strengthen youth engagement and participation in national health budget planning, implementation, tracking and performance evaluation.
"We discussed the need for governments in partnership with stakeholders including civil society, the private sector and young people to ensure the improvement of educational systems and structures," Marong recalled.
He also called for more accountability in policies, strategies, and laws related to youth employment.
He appealed for the empowerment of young people by governments regardless of their backgrounds and status, to meaningful participation and engagement in all stages of decision-making, development planning and implementation of all programmes and policies, using a rights-based approach.
"We also recommended the strengthening of male involvement on sexual and reproductive health and rights and called for ensuring young peoples' universal access to high quality comprehensive sexual and reproductive health services in line with the Maputo Plan of Action and the African Youth Charter. And we also passed recommendations on education, employment and inclusive participation, security and governance," he said.
Read Other Articles In Article (Archive)