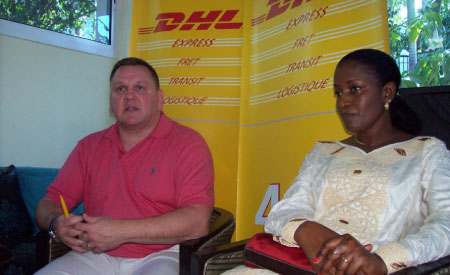 Two international officials of DHL are currently in the country on an official visit.
The two senior officials are DHL's Sub-saharan Africa Managing Director Charles Brewer and Francophone Area Managing Director Patrick Assi.
They came to The Gambia to have some in-depth discussions with their counterparts as well as to see the work of DHL in the country.
Speaking at a welcoming ceremony held at the Coco Ocean Hotel, Madam Ndioro Ndoye Sene, managing director of DHL in The Gambia, thanked their two executives for the visit.
She used the opportunity to thank all the companies and individuals doing business with DHL and The Gambia government for their support.
The local DHL boss said DHL Express is the world's leading reputable company in the international express industry, which invests in whatever is required to secure its network.
"Here in The Gambia, we have 15 certified international specialists (CIS) at your service," Madam Ndioro said. "We are your provider of choice. Our goal at DHL is to provide our customers with simplicity. To be an easy company with whom you can do business, a no headache partner."
She added: "We strive to simplify and standardize our products and process, thus provide our customers with an excellent service."
The DHL boss in The Gambia also said that speed is one of the most known attributes of DHL Express.
In corporate social responsibility, Madam Ndioro explained that their vast network, global presence and experience in international relief provide the ideal platform for helping people impacted by natural disasters and country-specific challenges on a local level.
According to her, in 2010, they gave 42 bags of rice and 25 cartons of 5-litre cooking oil to the National Disaster Management Agency, to complement the government's efforts in providing assistance to flood victims in The Gambia.
"DHL develos and supports initiatives that foster education and help young individuals expand their personal development and skills," Ndioro said.
Mr Patrick Assi, Francophone Area managing director, who spoke on behalf of the team, thanked the managing director of DHL in The Gambia and her staff for the warm welcome accorded them.
He also thanked the Gambia government for the support they are giving to DHL.
The Francophone Area managing director said DHL has been operating in The Gambia for many years now and it has been sponsoring so many young people in the country.
"I joined DHL for almost 27 years and DHL is a large company in the world," he said, adding that DHL is doing very well in The Gambia.
"We work very hard to improve our service delivery in the whole world," the visiting DHL chief said.
Read Other Articles In Article (Archive)