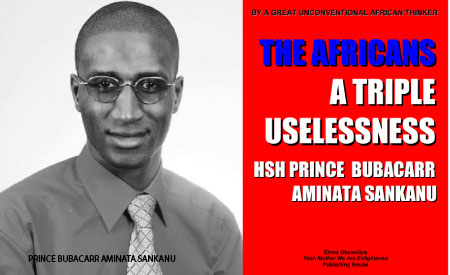 The Gambia's leading international filmmaker and creative brain Prince Bubacarr Aminata Sankanu is at it again.
This time around he has authored a powerful 357-page book titled "The Africans: A Triple Uselessness."
Published by the alternative Ehma Okuwuliya (meaning, yeah mother we are enlightened) Publishing House in Germany, Prince Sankanu's book is a "protest work and shock therapy that does not follow conventions".
Sankanu writes in the introduction of his book that it is "meant to spank the snoring Africans awake" so they can take the lead in commanding the destiny of Africa.
"I deliberately use the informal language of the common persons on the streets for better understanding by all creature with good functioning brains," said the author.
Prince Sankanu made history by becoming one of the first Sarahulleh intellectuals and, by extension, Gambian Pan-Africanists, to make films, perform in theatre plays and write a thought-provoking book at the young age of 35.
A very busy globe trotting creative genius in a class of his own, Prince Sankanu has proven beyond all reasonable doubts that he is a bonafide citizen and ambassador of The Gambia and Africa increasingly taking a pride of place among the elite crew of the next generation of global intelligentsia.
Read Other Articles In Article (Archive)