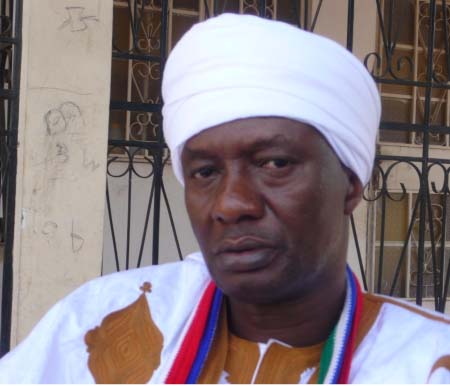 (Tuesday September 06, 2016 Issue)

Gambian-born philanthropist based in Fajikunda, Momodou Turo Darboe, who is also the Chief Executive Officer of Vision Development Foundation, over the weekend gave out three hundred and forty-five thousand dalasis (D345,000) to individuals and institutions to support their development initiatives.

The donation was made by Vision Development Foundation (VDF) at its office in Churchill's Town in partnership with Boca Loho Foundation based in Holland.
The cash beneficiaries included Gambia Police Force Kanifing Division, who received thirty thousand dalasis, Gambia Immigration Department thirty thousand dalasis, Sinchu Alhagie Water Project one hundred and fifty thousand dalasis.
One Alhagie Manneh received twenty-one thousand dalasis as scholarship/fees at the UTG, one Mamadou Dibba a victim of flood received ten thousand dalasis, Organisation for the Disabled received fifteen thousand dalasis, Golden Hand Academy received fifty thousand dalasis, among other recipients.
Speaking at the presentation of cheques at a ceremony held on Saturday, Saihou Fofana, public relations officer of Vision Development Foundation, who chaired the occasion, said the event was held to present cheques to various individuals and institutions to support their development initiatives in their localities.
He said the objective of VDF, among other things, is geared towards complementing the efforts of the government.
On behalf of the Chief Executive Officer of VDF, he thanked the Jamart Company for their support and collaboration in complementing each other's efforts.
Ousman Yabo, Executive Director of TANGO, said this was another important milestone in supporting the less fortunate.
He praised the VDF through the Chief Executive Officer for giving support to needy Gambians to aid them in their development drive.
He said as the head of NGOs in The Gambia, he wished to thank Turo Darboe and his organisation for the noble cause.
"I am very proud of the VDF's effort at complementing the government," he added.
He appealed to the gathering to pray for peace and tranquility the country has continued to enjoy, because without peace there would be no meaningful development.
He also thanked Mr Darboe and his partners from Holland (Boca Loho Foundation) for the partnership in giving support to the Gambian community.
Mr Yabo urged the Holland foundation to look for more partners like the Vision Development Foundation, "which is very reliable and helpful in the country".
"We thank you and appreciate all the effort you have been rendering through Vision Development Foundation," he added.
Mariama Bah Saine, Banjulinding Ward Councillor, representing the water project for Sinchu Alagie, said this was a very great gesture, and she was delighted at receiving the gift on behalf of her ward community of Sinchu Alagie.
According to her, some people could do it; they have the means, but their heart would not allow them to do so.
She said a responsible citizen always complements government's efforts, and Mr Darboe is part of those responsible patriotic Gambians.
She praised Mr Darboe for his benevolent gestures, and prayed for good health and long life for him and his family to continue with his good work in helping humanity.
Ank Bosselaar from Boca Loho Foundation based in Holland, a sponsor partner, said her foundation is sponsoring the water project in Sinchu Alagie, as "water is life".
She said they could not do it alone, therefore they decided to partner with VDF to support the water project.
In receiving a cheque on behalf of the GID, Commissioner Pa Modou Ndure thanked the VDF for the laudable gesture and noble deeds.
He acknowledged Mr Darboe's continued support to the GID, and described him as a patriotic Gambian, who has the country at heart.
Read Other Articles In Article (Archive)