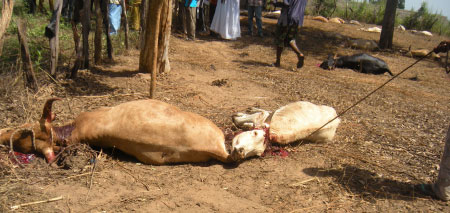 A Turkish philanthropic foundation called Dembale Gambia Foundation based in Germany last Friday offered one hundred and twenty five bulls valued at 1.5 million Dalasi to Muslims in The Gambia to mark this year's Muslim feast of Eid-ul-Adha, locally known as Tobaski.
The foundation also donated a container of second-hand clothing, school materials, among other items to the Manduar Nursery School, which was also shared among the community of Manduar.
Speaking to villagers shortly before the slaughtering of 65 bulls at Manduar village, Ensa Bojang, imam of Manduar village commended the Turkish donors for the gesture, describing them as real partners who came at a time when meat was needed by all Muslims.
According to him, Dembale Gambia Foundation has over the years rendered such gestures to Muslims during the feast of Tobaski.
While praying for the sustainability of the foundation, Imam Bojang urged the beneficiaries to make best use of the meat with their families.
Noting that helping the poor and the needy is paramount as far Islam is concerned, the Manduar imam used the opportunity to further urge those who can help to assist the poor and the needy.
Also speaking at the ceremony was Lamin Jarjue, the headmaster of Manduar Nursery School, who is also the brain behind the foundation. He lauded the Turkish philanthropists for donating a container full of second-hand clothing, among others.
This, he said, will go a long way in encouraging the students to learn.
According to Jarjue, the intervention of the foundation was key as far as development is concerned, while encouraging the donors to invest more in The Gambia, which he said is one of the most peaceful countries on the continent.
Atila Kenady, director of Correndon Airlines, hailed the foundation for rendering such a wonderful gesture to Muslims in The Gambia, adding that this showed that the foundation works with people who are  honest, loyal and truthful.
He challenged the community of Manduar to work hand in hand with the foundation, as more development opportunities are coming to them, particularly in the area of health and education. 
Read Other Articles In Article (Archive)