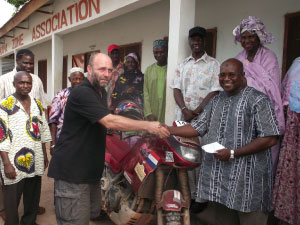 Antwerp-Banjul Challenge on Monday donated two motorbikes to the Association of Farmers Educators and Traders (AFET) at its office in Brikama in the West Coast Region.
The motorbikes, valued at €500 each, were handed over to the beneficiaries at a ceremony attended by Dawda Kujabi, secretary general of AFET, Seedy Bensouda, president of AFET, Alieu Sowe, coordinator of AFET and Muhammed Fayinkeh, president of NACOFAG, among others.
Speaking at the presentation ceremony, Kujabi gave a brief history of AFET, which he said was the first NGO in The Gambia, and was formed by a group of farmers who came up with the idea.
According to him, the formation of the association was geared towards promoting the development of farmers in the country.
Noting that their vision was to satisfy the needy people of T`he Gambia, Kujabi said their dream has been achieved, in the sense that presently AFET has a very wide scope and covers all the six agricultural regions in the country.
He stated that AFET, which is a membership-based organization, has a total of three hundred and forty four affiliated groups that are members of the association.
AFET, he further noted, has been engaged in many ventures like agricultural and educational activities, and other activities related to food security and poverty alleviation.
"For the past year, AFET has supported the development of over fifty vegetable gardens for women farmers in the country," Kujabi said, adding that AFET also established literacy and numeracy classes for farmers.
He further stated that the intervention of Antwerp-Banjul Challenge is very timely, in the sense that the donation came at a time when AFET was desperately in need of mobility.
The donated motorbikes, he went on, will empower staff to effectively carry out their supervisory and monitoring activities across the country.
Speaking on behalf of the donors, the country contact person for Antwerp-Banjul Challenge, Lamin Jammeh, councilor for Kartong ward, said AFET is one of the most important NGOs that deals with agriculture directly in The Gambia.
While commending the donor, Lamin Jammeh urged the beneficiaries to use the motorbikes for its intended purpose.
He noted that if properly handled, the motorbikes will go a long way in easing their work and will also help AFET boost its mobility.
Seedy Bensouda, president of AFET, hailed the donors for the "kind gesture", and assured them that the donated motorbikes will be put into good use.
Read Other Articles In Article (Archive)