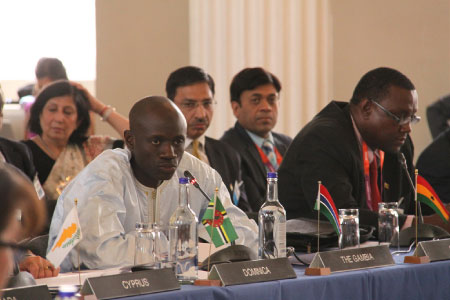 The Minister of Youth and Sports, Alieu K. Jammeh, yesterday Monday 29th October 2012 inaugurated a six-member committee on establishing a sustainable and proper framework for sports development in the country.
The inauguration was held at the Independence Stadium in Bakau, and brought together representatives from various sporting associations in the country.
Alpha Khan was nominated as the chairman of the committee, and other members are Ms Anna Dibba (a state counsel), Muhammed Jallow (MOBSE), Governor Lamin Sanneh, Samba B. Jallow and Bakary Touray.
In his inaugural speech, the minister said the event was made possible following fruitful discussions during the recently-held National Dialogue on Sports Development.
He referred to the apparent persistent conflictual relationship between players in the governance of sports in the country, and a determination to now move forward, in the general interest of the nation, to make sports a major and critical component of national development.
The committee is compose of distinguished personalities of impeccable character and vast knowledge in different disciplines to help establish a proper framework for developing sports in the country.
Minister Jammeh said the terms of reference of the committee are: to develop a comprehensive schools sports program; to propose principles on sports governance and administration for the running of national sports associations; to provide a framework on decentralizing sports and sporting activities to the grassroots/regions; to supervise the much-needed leadership transition for all major national sports associations/committees to a new generation of leaders and administrators.
 The committee will also establish clear lines of relationship and partnership between Government, National Sports Council, National Sports Associations, Gambia National Olympic Committee, Gambia National Paralympic Committee and International Sports Federations/Committees/Institutions, as well as suggest ways and means of providing sustainable funding for sports development
The minister pointed out that the committee will be in place for an initial period of six (6) months with possible extension to, for a start, focus on 6 (six) types of sports.
"These sports types will be Basketball, Volleyball, Table Tennis, Athletics, Handball and Football. Already work on football restructuring is progressing very well, as we all know. Nonetheless, the Committee will specifically look at how football and the other five can be well integrated in our schools with sufficient facilities."
Alh. Alpha A Khan, the chairman of the committee, thanked Minister Jammeh for nominating him to serve as the chairman, and further thanked the members for accepting to partner with him in the noble assignment, which he said is one of the many exemplary services they continue to render to the government and the people of the nation.
Read Other Articles In Article (Archive)