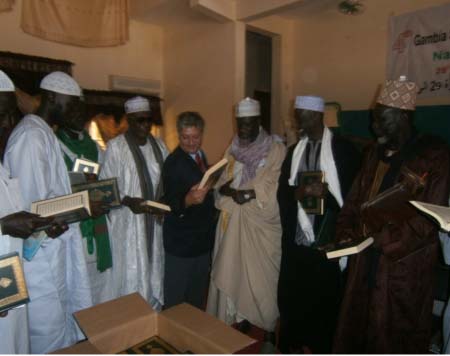 The Turkish Embassy in Banjul Thursday handed over 10,000 Quranic copies to the Gambia Supreme Islamic Council (GSIC), at a ceremony held at the Council's head office in Kanifing.
Speaking at the ceremony, Ergin Soner, Turkish Ambassador, said he was very happy to be associated with such a prominent Islamic council.
He said both the Islamic Council in The Gambia and that of Turkey are the same, adding that the gesture would add on strengthening the relationship between The Gambia and Turkey.
He said both countries are very much enjoying the political relationship they share as nations.
According to him, he was in The Gambia not only on a political mission but also to strengthen the cultural relationship between the two countries.
"The embassy is open to all Gambians and non-Gambians alike. The embassy is open to new ideas and will gladly help, if possible," he said.
He said Turkey is a big country and half of the population is Muslim.
"I would like to extend my sincere thanks to the President of the Islamic Council in Turkey and the President of the Republic of The Gambia for their usual support and cooperation they have shown over the years," the Turkish diplomat said.
He thanked the Supreme Islamic Council, saying he hoped the copies of the Holy Quran would be distributed to those really in need of them.
"I brought with me 10 thousand copies of the Quran and I hope it shall reach the rightful people," he stated.  
Alhaji Momodou Lamin Touray, President of the Supreme Islamic Council, thanked the Ambassador and delegation for their kind and humble gesture, saying they would like to welcome them all in the name of the council.
The GSIC boss said this was the first meeting since the new council was elected and they were grateful that such a gift was presented.
He added that they would like to extend their thanks to the Government of Turkey for their support towards the council.
The copies will be distributed to mosques and Islamic schools, he said.
"I will assure you that these copies will be distributed fairly since The Gambia has many Islamic schools," Imam Touray said. "This gift will surely help young people who are studying the Quran."
He thanked President Yahya Jammeh, who he said had long been in support of the council.
He also thanked institutions and media houses for their usual support.
Read Other Articles In Article (Archive)