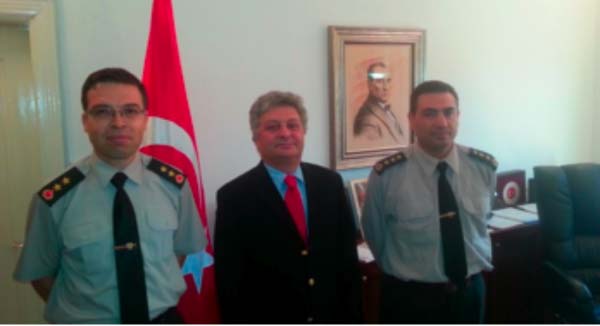 The outgoing and news Turkish military adviser in The Gambia, Lt. Colonel Bayram Ozer and Lt. Colonel Ismail Ozcan respectively, paid a visit to the Turkish ambassador, Ergin Soner, on Monday 3 August 2015 at his office.
Lt. Colonel Ozer, whose two-year tour of duty has come to an end, has been replaced by Lt. Colonel Ismail Ozcan.
"This is just another sign of the consistent relationship between Turkey and The Gambia in the field of military cooperation, which has been sustained and improved for more than 25 years. And this Embassy will continue to add its significant weight on further fostering this exisitng tie for the benefit of our tow friendly armed forces."
"Ankara's sending of military advisers to Banjul is a continuation of the military relations between our two brotherly and friendly countries, that started way back in the early 1990s, and these relations have been galvanized over time with the help of military advisers and Turkish Embassy," a statement issued by Turkey's embassy in Banjul stated.
Read Other Articles In Article (Archive)