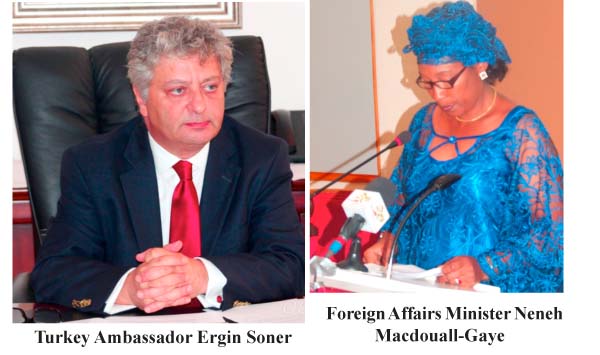 His Excellency Ergin Soner, Turkey Ambassador to The Gambia, has passionately reiterated his country's respect and love for The Gambia as a true friend and brother, indeed, to the Government and people of the Republic of Turkey.

Ambassador Soner made this remark on Friday 28 October 2016 at the Ocean Bay Hotel in Bakau Cape Point, while delivering a landmark statement on the occasion marking the 93rd Independence Anniversary of the Republic of Turkey.
The occasion, attended by ministers and senior officials of the Gambia government, members of the diplomatic and consular corps, as well as top executives of the public and private sectors, was the fourth and last Turkey independence anniversary under the auspices of Ambassador Soner.
"Turkey and The Gambia have friendly and brotherly relations based on a long and deep rooted past," Ambassador Soner said.
Turkey shares and fully supports The Gambia's visionary development agendas, he stated, saying: "I should also point out that H.E. President Yahya Jammeh's wise leadership and close and personal friendship with H.E. President Tayyip Erdogan undoubtedly occupies an important place in these rapidly and increasingly improved relations between Turkey and The Gambia."
These improved relations and personal friendship between the two "determined presidents" was demonstrated once again on the night of July 15 when the Fethullah Terrorist Organisation – Feto (also known as Gulen Group) – attempted to overthrow the democratically elected government and legitimate president of Turkey.
"On this challenging night for Turkey and her true friends, it was the Gambian leader, H.E. President Sheikh Prof Alhaji Yahya AJ.J. Jammeh Babili Mansa, who was among the first to demonstrate solidarity with Turkey, her elected President and Government, without even waiting to see or know how things would unfold," Ambassador Soner remarked.
In this context, he continued, "I am proud to share that The Gambia is a true friend for us in Africa and that the Gambian people are brothers and sisters of the Turkish nation. In other words, Turkey has been and will always be trans-continental brother of the Gambian people."
In appreciating and gratifying all the guests, especially members of the diplomatic and consular corps, for their presence at the occasion, the Turkish Ambassador said: "On a final note, as this is the fourth and last national day reception for me here in Banjul as Turkish Ambassador, I would like to extend my deepest heartfelt gratitude to his Excellency the President of the Islamic Republic of The Gambia, the Hon. Minister of Foreign Affairs, all the members of the Gambia Government and administration and also my thanks to my colleagues who are representing their own countries in The Gambia and last, but not the least, the lovely people of this country.
"I would also like to add that the Islamic Republic of The Gambia will very soon have a dual Ambassador in Ankara serving for The Gambia so, therefore, the doors of my office will be wide open to all Gambians for a cup of coffee whenever they need to consult with me."
The Ambassador then quoted the statement delivered by his President Tayyip Erdogan.
In her remarks on the occasion, Gambia's Minister of Foreign Affairs, Neneh Macdouall-Gaye, said the day is also a day to pay tribute to Mustafa Kemal Ataturk, founder of the Modern Turkish Nation, for his visionary leadership, statesmanship and for being an icon whose legacy continues to inspire the evolution of modern Turkey.
"Your commitment to modernisation and transformation is indeed remarkable. The political, economic, social and cultural transformation that you have undergone over the last decade is equally a source of great inspiration for us – as your true friend and ally with a shared vision of peaceful and mutually-beneficial development. We have enormous respect for your proven commitment to democracy human rights, pluralism, secularism and rule of law," the Minister said.
Modern Turkey is a significant player on the international stage. It is no surprise that they continue to make significant contributions towards the consolidation of global peace, security and stability, she added.
Hon. Macdouall-Gaye said The Gambia and Turkey share a common vision of transformation through modernisation with the pursuit of genuine friendship with countries of the world.
"We continue to pursue transformative cooperation built on mutual respect and true friendship. Our bilateral relations are built through a win-win approach that yields results and mutual gains for our peoples.
"Turkey is a true friend of The Gambia. That is why the volume of our trade is growing; that is why our leaders nurture a shared global vision and; that is why we stand together in solidarity at critical times.
"We strongly believe that through partnership and friendship, Turkey has a significant role to play in Africa's transformation."
She said Turkey's commitment to the expansion of her circle of friends in Africa is a commendable initiative and "The Gambia stands ready" to encourage the deepening of Turkey's ties with the continent.
"Our friendship is a special one that should be constantly nurtured," the foreign affairs minister noted. "We are committed doing all that is necessary to see its growth and expansion into new and innovative areas. As we strengthen our bilateral relations, we should remain inspired by the shared vision and close personal friendship of our two great leaders."
Minister Macdouall-Gaye further outlined some "tangible" cooperation and support Turkey has rendered to The Gambia.
She stated: "In our defence and security sector, Turkey continues to offer capacity building and other forms of support to The Gambia National Army. This has contributed immensely to their ability to undertake courageous UN peacekeeping and AU peace support operations beyond our borders. Turkey has also been at the forefront of providing capacity building support to some of our Ministries, Departments and institutions.
"The Turkish International Cooperation and Coordination Agency (TIKA) also provided enormous and critical health and assistance to our people and institutions. The Agency has also facilitated the training of our diplomats, health professionals and security personnel.
"Turkey continues to also award a good number of scholarships to our students who are studying diverse disciplines. Our peoples are also getting closer through various exchange visits"
Minister Macdouall-Gaye said The Gambia would remain grateful to Turkey for its demonstration of "true friendship and genuine" cooperation.
"You stood by us at critical times; we will also stand by you in true solidarity at all times," she stated.
Read Other Articles In Article (Archive)