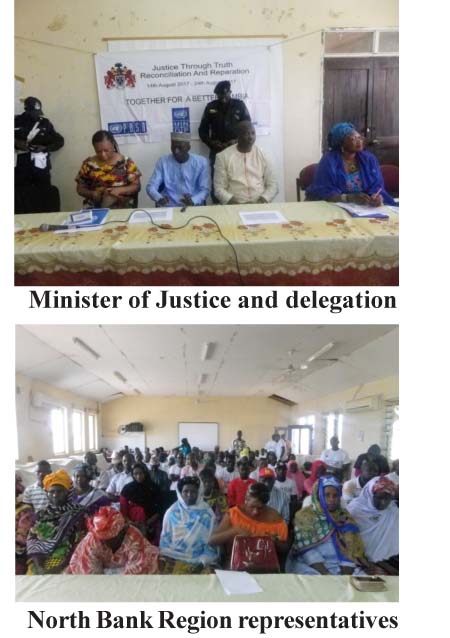 A team of 40 people from civil society organisations, Ministry of Justice, the United Nations Development Programme (UNDP) and other relevant stakeholders, is on a nationwide tour to enlighten people about the Truth Reconciliation and Reparation Commission (TRRC).

The tour is as well engaging the masses in a discussion on how the TRRC would properly dispense justice for the violations and abuses of the Yahya Jammeh-government.
The TRRC is to investigate the past human rights violations and abuses by the former government.
In the North Bank Region, the officials held a meeting at the Regional Education Directorate in Kerewan on 14 August 2017.
NBR Governor Ebrima K.S. Dampha said the TRRC could help in bringing justice and enable the Gambian people to reconcile after "a lot of differences in the past, especially tribalism".
"It is time we live as one family and nation," he said. "In the new dispensation, we are looking forward to working together and making a better Gambia."
Justice Minister Abubacarr Tambadou said the establishment of the TRRC is in fulfillment of a promise by the coalition government during the 2016 election campaign to set up a commission for transitional justice and reconciliation for victims of the 22 years of the former regime.
"The commission wants all voices to be heard and then there will be reconciliation and compensation for the victims," he said.
"The commission is looking forward to identifying the perpetrators and preparing genuine actions for the victims and further making sure there is non-recurrence of rights violations and abuses."
UNDP Country Representative Ade Mamonyane Lekoetje, in her remarks, said the nationwide consultation would help people to share their views about the commission after a lot of pains and hardship for 22 years.
One S.M. Kijera, in a presentation about the TRRC, said the commission's mandates include helping the victims of human rights violation to reconcile as it was in South Africa, Liberia, Sierra Leone and Ghana, where people were faced with the challenges of bad governance and dictatorship.
"The idea is to recognise and implement everlasting reconciliation among the Gambian people in eradicating human rights violation," Mr Kijera said.
He explained that the commission is not only centred on the victims of physical torture but a collective harmful violation in both emotional suffering and economic loss.
Some representatives from North Bank Region shared their experiences under the 22 years of former President Jammeh's government.
One Omar Samba said he was arrested and taken to a police station without genuine reason after he discussed politics in the ferry.
"At the station, I was told that I insulted the former president and I would only be freed if I cross carpeted to the APRC party or I would be tortured and killed but I declined to cross carpet and that made my life a living hell," Samba recalled.
Read Other Articles In Article (Archive)