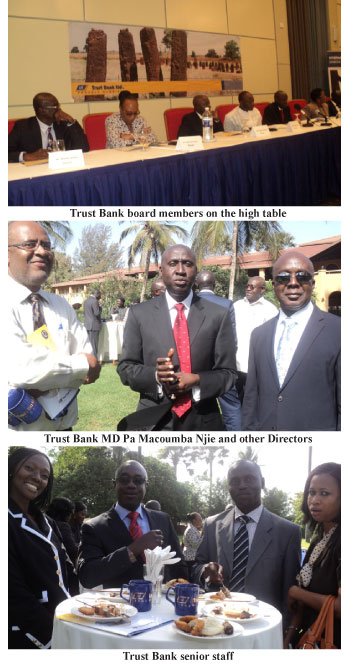 Trust Bank Gambia Limited, a leading financial intermediary in The Gambia's banking industry, has registered another set of impressive results for the year ended 31 December 2012.
The bank maintained a substantial profit after tax of D109 million in 2012 compared to its 2011 PAT of D110 million.
Its net interest income for the year ended 31 December 2012 increased by 2% to D206 million from D201 million in 2011.
Shareholders funds increased by 9% for the year under review to D350 million from D321 million in 2011.
Investments, for the same period, increased by 25% to over D2.1 billion from D1.6 billion in 2011.
The bank's total assets increased by 6% to over D4.3 billion in 2012 from D4.0 billion in 2011.
The bank also kept its sound record by paying a dividend per share of 40 bututs in 2012 as it did in 2011.
Earnings per share also stood at 55 bututs in 2012 as in 2011.
Another resounding banking index was demonstrated by the bank in raising its customer strength profile by 6% to deposits of over D3.68 billion in 2012 from D3.47 billion in 2011.
Against the backdrop of economic headwinds and increasingly difficult market, Trust Bank has again proved the resilience of its brand by sustaining its "superior performance" during the financial year 2012, said the bank's Managing Director Pa Macoumba Njie, at the bank's 15th Annual General Meeting (AGM) held on 30 April 2012 at the Kairaba Beach Hotel in Senegambia.
"Despite adverse pressures on net interest margins, enhancement of non-interest income and prudent control over operating expenses have resulted in after tax profits of GMD 109M compared to GMD 110M in the previous financial year," Mr Njie said.
"Moreover, the Bank again proved its strength in its asset quality management by further reducing its non-performing loan ratio from 9.57% in 2011 to 6.81% in 2012.
"The Bank achieved a reduction in its loan loss impairment charge due to improved portfolio management and prudent credit policies and procedures. As a result of this approach, the credit quality of new lending remains strong and the level of impairment is being managed successfully by our retail, corporate and recovery units."
In shareholders' return and liquidity ratios, Trust Bank delivered better than industry averages with Return on Assets and Liquidity ratios "both above the minimum regulatory requirement".
In addition to its financial performance, Trust Bank also took some strategic initiatives during the financial year 2012 to strengthen its business foundation.
"The Bank expanded its Disaster Recovery Centre (DRC) to ensure uninterrupted banking services," MD Njie said, adding: "The Data Centre backup site is now a replica of the main Data Centre at head office and the backup process is now completely automated.
"The Bank has also extended its branch network with the opening of Lamin Branch in 2012 and the opening of another branch in Sinchu [in March 2013]. This brings the total number of branches to 17."
Trust Bank's quality of customer service and strength, which serves as a major differentiator among the banking service providers, is ever increasing with substantial deposits each year.
MD Macoumba Njie told Trust Bank's stakeholders: "Your Bank enjoys the highest customer base in the industry and is committed and focused towards providing excellent customer service through all delivery channels from our banking halls to our e-products and alternative delivery channels.
"The varied interests and expectations of customers will be taken care of by further improving upon the various processes and procedures."
Trust Bank's resounding performance in 2012 was achieved in spite of the prevailing global financial crisis and economic downturn in The Gambia as a result of the effects of the 2011 crop failure and high international oil prices.
"While business performance slowed down due to the aforementioned factors, we continued to record impressive results as we proactively balanced growth and risk while enhancing our operating environment and thus increasing productivity," the bank's board Chairman Ken Ofori-Atta said.
"Your Bank's growth was further complemented by our vigilance in maintaining a higher quality asset portfolio. Our NPL [Non-Performing Loans] ratio dropped from double digits two years ago to 6.81% by the end of 2012.
"Despite pressure on net interest margins we were one of the first banks in the industry to lower lending rates in response to reduced Central Bank rates. This we first did in 2011 when we reduced lending rates by 2 per cent and followed with a further 1 per cent reduction in 2012 showcasing the Bank's desire to offer competitive pricing for borrowing customers in order to help our customers create sustainable businesses. In spite of this, net interest income still increased by 2% over last year."
Chairman Ofori-Atta also said: "Our performance … is a reflection of the bank's proven business strategy and the leadership team's commitment to deliver value to all our shareholders.
"We have, over the years, made concerted efforts to enhance the Bank's visibility and our customers' experience in the pursuit of our desire to develop and deliver banking products and services that are appropriate, affordable and accessible to all.
"We have over the years been committed in ensuring that our customers have a faster, secure and more convenient access to Trust Bank's financial services round the clock.
"In our quest to contribute to the deepening of the foreign exchange market in The Gambia, which will help to develop other productive sectors of the economy, the Bank, through its wholly owned subsidiary Bayba Financial Services Ltd, signed on many new Monetary Transfer Partners."
Bayba Financial Services Ltd
Mr Ofori-Atta also said Bayba Financial Services Ltd, the bank's wholly owned subsidiary, completed its second year of operation in December 2012 with an after tax profit of D9 million compared to a profit of D1 million in the previous year, representing an increase of 800%.
"Bayba's balance sheet also grew by 425% from D8M in 2011 to D42M in 2012," he added. "The Bayba Board has recommended the payment of D4.5 Million as Dividends to its parent Trust Bank Ltd and this payout will be reflected in the Bank's 2013 financials."
CSR
On Corporate Social Responsibility (CSR) Trust Bank continues to donate part of its profits to worthy causes in a bid to make positive contributions in the community and environment.
"We have supported advancements in our areas of focus which mainly include education, sports, health and, protecting and preserving our environment," MD Njie said.
"This year, the Bank spent GMD1.8 Million in the health sector, GMD 1.1 Million in sports and education and another GMD 1.6 Million in other areas of intervention."
Human Resources
Human resource development has been a key component of Trust Bank's success, which the bank is determined to maintain.
Trust Bank is already endowed with a competent and highly motivated employee base, MD Njie again said.
"We will continue to work on various initiatives such as talent management, succession planning, capacity building and performance management amongst other initiatives to produce substantial results from our staff.
"We will also always strive to enhance our employees' output by providing competitive pay and benefits, training and providing a healthy and safe work environment."
Outlook
While stakeholders of Trust Bank expect challenges to continue, they are confident in the strength and resilience of the Trust Bank business model and the people behind it.
"Our well capitalized balance sheet and robust brand business model will, undoubtedly, enable us to maintain consistently good performance in the coming years," Board Chairman Ofori-Atta said.
He continued: "Our focus on our customers and our employees and our determination to preserve our unique brand with innovative thinking and technology, strengthen the Bank's platform for the future.
"Our strategy of balancing risk, efficiency and controls with calculated growth will further enhance our shareholder value as well as to make us leaders in the socio-economic transformation of The Gambia.
"With the support of our shareholders, the commitment and diligence of our staff and with the strong hand of God on us; we dedicate ourselves to deliver even greater value to [stakeholders of the bank] in the years ahead."
Read Other Articles In Article (Archive)