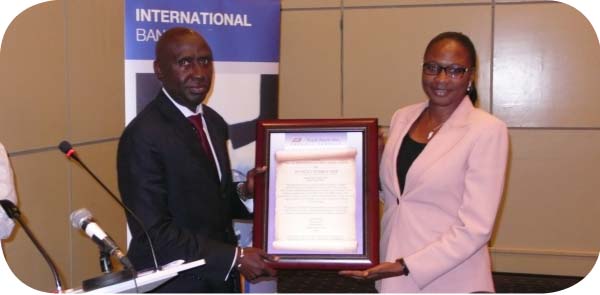 The board of Trust Bank Gambia Limited, has paid what it called a "living tribute to Pa Njie", as an expression of "gratitude" to its first managing director and CEO, for his combined work to date for Trust Bank and its predecessor banks, Meridien and the Gambia Commercial and Development Bank, for a total of 30 years.
Pa Njie has been at the helm of the bank, reported to be the Gambia's most profitable bank, since the creation of Trust Bank, whose predecessors were the Meridien Bank and before that the Gambia Commercial and Development Bank. Thus he has worked for these banks, in which state enterprises and Gambians own substantial shares, to date for a total of 30 years.
In a statement: "In gratitude to Pa Njie in celebrating his 30th year at Trust Bank", delivered at the 16th Annual General Meeting of the bank, held at the Kairaba Beach Hotel on June 4, Trust Bank board chairman Ken Ofori-Atta said:
"Pa epitomizes that leader in our corporate world that we so rarely encounter. So when one is blessed with working, for over 15 years, with such a Titan in the annals of The Gambia's corporate history, it is indeed a true honor. As Africans, we too often tend to heap praises on our heroes only in obituaries. The board has decided to celebrate Pa and his remarkable achievements even in this period of Joy!... And it is as such a real pleasant assignment for me to undertake."
In the words of Ken Ofori-Atta: "I got to know Pa in 1998, when the Central Bank announced the privatization of the Trust Bank. Their model was to launch an IPO so Gambians would become shareholders, and at the same time secure a strategic partner with substantial shares to ensure technical support and management oversight. The Central Bank was, of course, quite wary of the future governance of TBL, especially after the debacle with Meridian BIAO. The CBG had to step in to recapitalize the bank, hold it in trust and thus the name Trust Bank. This was the third reincarnation of the bank, from the Gambia Commercial and Development Bank to the Meridian BIAO and now to Trust Bank. This privatization had to be successful.
"Databank had successfully privatized the Social Security Bank in Ghana, along very similar lines, and also acquired and restructured the leading private insurance company, Enterprise Insurance, in Ghana. So when Mr. Frankie Hayford informed us of this TBL opportunity, we followed through and presented a proposal to the Central Bank. It was, therefore, during the subsequent Due Diligence and negotiations that I first encountered Pa.
"Pa had a peaceful and laconic demeanour. He had been a banker already for some 15 years, clearly competent, intelligent, professional and loyal to the bank. There was a spark of a kin-spiritedness, and I felt very comfortable with him. I am sure he was a bit more sanguine than I was: we were rather young then, from Ghana and no experience in The Gambia.
"I was fortunately in a West Africa Network with TAF so he could attest to Databank's credibility. Pa had been with the bank since 1982, and was appointed acting Managing Director in 1997, when Meridian BIAO imploded, and was then confirmed as the Managing Director in 2000. At that time, Trust Bank was a distant second by all matrices of measurement to a Standard Chartered Bank. We could not touch the helms of their clothes!
"We worked very closely together, with the board and with Frankie representing Databank in The Gambia. Let me also recognize the initial board for their hard work and vision.....Andrew Sylva of SSHFC, Bai Mattar, Charbel, Taf, Frankie, and Ebrima Njie.
"For four or so years I came every month from Accra to Banjul for a week, and together with the Board joined Pa as we built the bank up, with the burning mission to be at the doorstep of every Gambian and to supplant the 150 year old Standard Chartered, as the leading bank in The Gambia!
"And Pa has achieved this, even as the competition has intensified from five banks in 1998 to currently 12 banks. Trust Bank is not only the largest and most profitable bank in the past five years, but also the largest tax payer and largest contributor for corporate social responsibility causes in The Gambia. Let us share some of Pa Njie's successes in the past 15 years:
A. Pa has enabled the Bank to pay dividends of over D900 million since 1999 to shareholders!
B. Corporate tax to government has exceeded D600 million
C. Corporate Social Responsibility causes of over D30 million, including the refurbishment of the Leman Street Clinic, the Sanatorium and now the Psychiatric Hospital and various education and sports programs.
D. Our branch network has grown from 3 in 1997 to 10 in 2000 to our 18th branch which is under construction.
E. Our staff strength has increased from 124 to 351
F. Our shareholders have increased from 260 to 1,018
G. Our share price has increased from D1.50 to D5.70, thus increasing our market capitalization from D85 million to D406 million
H. He has diversified the Bank into Ghana, Liberia, and other financial services including Home financing, Life Insurance and Bayba financial services.
I. He was the first CEO to have the courage to list his bank on a Stock Exchange in a cross-border transaction in West Africa.
"The remarkable thing about this man is that he has achieved all this without the fanfare and pyrotechnics that is typical of such high-performing MDs; but with humility and forbearance.
"In an extremely competitive environment, he has steadfastly created value for all shareholders, satisfied our clients and contributed significantly to the national coffers. "The journey has not always been easy, but it has been fulfilling, these past 15 years with Pa."
We have shared moments of achievements as we eclipsed Standard Chartered Bank.
We have shared adventures of taking TBL to Ghana and Liberia.
We have enjoyed with Pa his national honours as he received the National Order of the Republic of The Gambia.
We have shared moments of filial pride and joy as Pa's Dad religiously joined us at AGM's and photographed us.
We have shared deep pain and sadness as Pa's Dad was called to our Maker.
We have had close encounters with the law as I was invited by the IG, to stay almost overnight at their HQ on ECOWAS Avenue and Pa could not sleep, what was he going to tell my wife...?
"But above all, we have grown together, learnt from each other, and Thanks to Pa We have all on this board become better persons, full of admiration and respect for this man of integrity. This man who has taught all of us how to serve and respect our clients and shareholders, and be alive to the present so we will grasp our calling and impact our communities in a significant way as he has done......so he has with great fortitude and single-mindedness kept on building Trust Bank, these past 30 years, without disillusionment.
"Pa is indeed a selfless, dedicated leader, with a commitment to excellence and the highest ethical standards I have encountered in my professional life. It is no surprise therefore when he was appointed to the National Order, selected as one of the exclusive number of Bankers short listed for the African Banker of the Year Award, and also conferred an Honourary Doctorate in Banking and Finance by the Irish University Business School. Despite all this, Pa remains a modest family man from 'Half Die'.
"Let me end with a quotation from Ephesians 2:10 which captures Pa as a man working within his purpose and to a higher calling.
"'We are God's handiwork, created in Christ Jesus to do good works
Which God prepared in advance for us to do'.
'Few of us can without equivocation say that we are doing the good works that God has prepared in advance for us to do. Pa is a living pantheon of God's handiwork.
"Thank you Pa for your selflessness, your surrender to serve all of us and your sacrifice so TBL will prosper and make the nation proud.
"Well done and Congratulations.....in Ghana we will say AYEKOO, which is a fervent outcry of wonderment at the immense achievements of a remarkable person. AYEKOO indeed. May God continue to protect, provide and prosper you and your family."
Read Other Articles In Article (Archive)