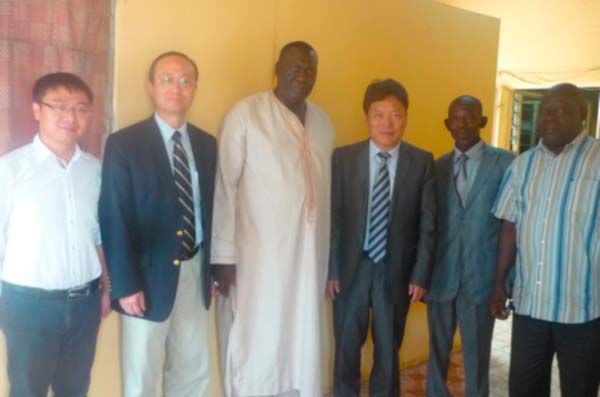 The Point newspaper yesterday Monday 13 June 2016 signed an agreement with Xinua News Agency on news exchange.
The three-man delegation from Xinua News Agency led by Yuan Binghong, were welcomed by The Point Co-Publisher Alhaji Pap Saine and the General Manager Philip Kotey.
In his remarks, Mr Saine, on behalf of the paper's management and staff, welcomed and thanked his colleagues from Xinua News Agency.
He informed the visitors that The Point newspaper is bilingual, hoped Xinua News Agency will cooperate withThe Point to make it more popular in the world, since Xinua News Agency is one of the biggest in the world.
"We look forward to seeing support in terms of training and equipment," he said, adding that they would do everything possible to unite in making sure their goals are achieved.
"The partnership will help the paper a great deal," he added.
Yuan Bingzhong, General Director of Xinua News Agency, said their visit to The Point was to sign an agreement to promote understanding, as well as exchange news between media organisations in The Gambia and the media in China.
He said the Gambia government recently resumed diplomatic relations with China, and as such there should be more cooperation and exchanges between the media in The Gambia and China.
He said Xinua News Agency is the official and biggest news agency of China, adding that they cover the world and China in a comprehensive, objective and balanced way.
He said they have a very strong presence in Africa, and are providing a wide range of news stories about Africa.
"We report about the developments in African countries, which is good for them," he went on.
He said they were glad to initiate cooperation with The Point newspaper, which he described as "a very good newspaper".
"I am really impressed with the work of The Point newspaper, by winning four international awards, as well as publishing both English and French news," he pointed out.
"We are happy we have started this cooperation because we have a lot of areas to cooperate," he added.
Malick Jones, deputy permanent secretary at the Ministry of Information, Communication and Infrastructure, in his remarks, said the development by the Chinese Government through Xinua News Agency is welcomed by the Gambia government.
He urged both parties to take advantage of the opportunity, and see how best they can cooperate.
He also urged The Point to always use Xinua News Agency's bylines whenever they take their stories as that is important, but lacking in some newspapers that come up with international stories without any byline or credit given to the international agencies they get those stories from.
"This is a very big opportunity for The Point to take advantage of," he added, saying there are international forums Xinua News Agency can organise and invite some personnel from The Point or any other newspaper they have a bilateral agreement with to participate, in order to help improve journalists in their work.
Xinua News Agency unlike other news agencies, Mr Jones observed, reports Africa from the positive point of view.
"They are in Africa to develop it, as they do report Africa not looking at the diseases, poverty and all other things that other media will paint Africa with. They look at the development side of Africa and promote that."
He added: "Africa is growing on a daily basis, and this is where we have to project our energy and scenery all together to make sure that Africa is promoted in a positive way."
Read Other Articles In Article (Archive)