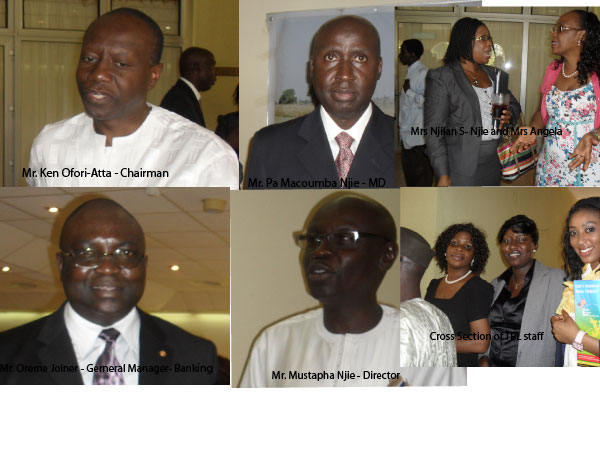 The Gambia's "best performing bank" has accelerated its 2010 profit after tax by 8 per cent to D69 million from D64 million in 2009.
In addition to the bank's continual systematic growth in profit are its dividends per share, which increased by 11% from 90 bututs in 2009 to 100 bututs in 2010; shareholders funds, by 4% from D281 million to D290 million; deposits, by 17% from D2.4 billion to D2.9 billion; and total assets, by 16% from D2.9 billion to D3.4 billion.
The bank's loans and advances to its clientele increased also by 23% from D1.1 billion in 2009 to D1.3 billion 2010, demonstrating its level of support to customer growth and contribution to the development and expansion of investment and businesses in the country.
"Trust Bank has not only succeeded in retaining its overall market share in the industry; the Bank also exceeded targets set for the year in almost all its key performance indicators," Trust Bank's Managing Director Pa Macoumba Njie said at the bank's 13th Annual General Meeting held yesterday at the Kairaba Beach Hotel in Senegambia.
He added: "Distinguished shareholders, your bank's strong capitalization, balance sheet, consistent profitability, compliance to high standards and overall solid performances are thanks to the single minded determination, focus and quality of its staff. In accepting the practical realities of the competition and our environment, we were able to develop and execute the winning formula to convert the Bank's mission and vision into tangible and winning performances.
"However, let me hasten to add that we are aware that much is still expected of us. A lot of work remains to be done to enhance our Bank's resilience to its biggest threats; credit shock."
Trust Bank's performance also transcended its banking indices or numerical and financial resources; it, over the year, achieved heroic rewards and insignia from reputable quarters both in and out of the country. "It is a pleasure to report that Trust Bank again won the prestigious Banker Award as a reward for its good achievements over the year 2010," said the bank's Board Chairman Ken Ofori-Atta.
"The Bank was also awarded the insignia of the National Order of the Republic of The Gambia (ORG) in the year 2010. We thank all stakeholders for enabling us to win such prestigious awards and we thank the Banker Magazine and the Government of The Gambia for recognizing and rewarding Trust Bank's achievements."
Human Resources
Sound, competent and reputable human resources is a top priority for Trust Bank. Chairman Ofori-Atta underpinned that fact: "Our people remain our biggest strength," he said, adding that its staff as always has continued to demonstrate the high levels of support that the bank and its customers expect from them.  "In turn, your welfare and development will always remain the Board's topmost priority," he said of the staff.
Bank's development strides
Mr. Ofori-Atta also dilated on the bank's developments over the year, saying: "The branch network still stands at 15 with an ATM network of 10. For this year, the bank concentrated on improving and introducing new business products, customer and technology initiatives all in its bid to further strengthen its operations and footprint."
He added that the bank was able to come out with an internet banking product in 2010 and Electronic Bill Payment in 2011 in addition to other classic and veritable products and services for its clientele and the banking public. "Other exciting products are in the pipeline and all are geared towards giving our customers multiple service channels to transact their banking business with the minimum of fuss," he said.
In addition to these strides, Mr. Ofori-Atta said: "At the end of 2010, Trust Bank purchased a 100% equity stake in Bayba Financial Services Ltd.  Bayba Financial Services Ltd is in the business of foreign currency money transfer and this acquisition is in fulfillment of Trust Bank's objective to stretch, grow and diversify its income source."
Corporate Social Responsibility
Trust Bank Ltd has never lost sight of its responsibility to make a real and meaningful contribution to both the economic and social development of The Gambia and Gambians, especially in respect of its corporate social responsibility.
Said Mr. Njie, the bank's managing director: "This year the bank spent D700, 000 in the health sector, D980, 000 in the education sector, D160, 000 in the sports sector and a further D700, 000 in other interventions."
In respect of the bank's outlook, he said: "We aim to be the best at what we do – best in service, products and relationships and best for our customers, employees and shareholders.
Trust Bank is also cognizant of the world economic environment, which it says has been recuperating from its recent economic and financial ailment, otherwise economic recession.
The banking industry in The Gambia is ever getting highly competitive, with the growing number of commercial banks  now standing at 13 in a population of about 1.7 million (current reported statistics). This situation, despite its merits for the national economy, has caused so many ills for the industry, such as rampant unguarded loans and advances giving out by banks of which a lot end up becoming what economists call bad loans.
Read Other Articles In Article (Archive)