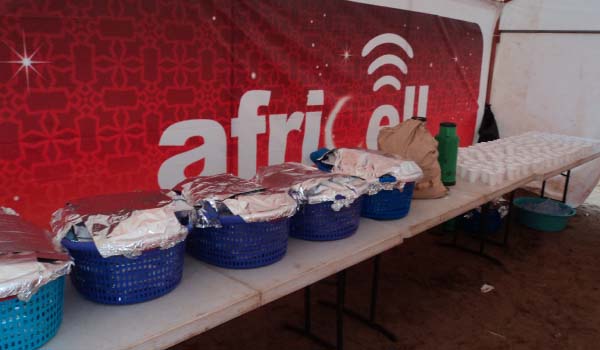 As part of its Ramadan Xtreme Tour promotion, Africell, the leading GSM operator in the country has again demonstrated its generosity, care and love for its valued subscribers especially during the Holy month of Ramadan.
The company is giving out eighty valuable prizes to winners on a daily basis across the country and these prizes includes bicycles DVD players, stereo tape, TVs, portable DVDs, sugar, rice, vegetable oil, mobile phones and among others to share with its customers.
Peter James Braima, senior media supervisor of the company stated that Africell Xtreme Tour started on 13th July 2011 and has now covered over 75% of the country.
According to him, the Ramadan tour started on the first day of Ramadan and have covered some villages in the provinces such as Koina, Kudang, Pakaliba, Farafenni, Wassu, Illiassa. He said in the urban area, the convoy has so far covered Manjai, Bakau, Bundung, Tipper Garage and now heading to Brikama.
He stated that to be part of this raffle, one have to recharge the D45 credit to stand a chance to win valuable prizes on a daily basis.
He revealed that apart from this campaign, Africell is also distributing bags of sugar, rice and water to mosques nationwide as a way of giving back to their customer. "We are also doing Iftar for the people for free of charge", he added.
Dilating on Africell's interventions as part of giving back to their valued customers, Peter revealed that Africell has in place 12 hajj packages to Mecca to be won.
He stated that to be part of this, all one needs to do is to recharge the D100 credit and stand the chance of winning a hajj ticket.
"Africell have series of value-added services for its customers such as the Holly Quran recitation, 99 names of Allah, prayer time and prayers of the day. For more information, please contact customer care on 111," Peter added.
Meanwhile, some of the winners who attended the draw held in Bundung, also gave their thoughts about Africell's Xtreme Ramadan Tour, expressing gratitude to the company for always caring and sharing with their subscribers.
Mr. Udochukwa Nwankpa, a Nigerian national and winner of a new mobile phone hailed Africell for what he described as true partners. According to him, this is the first time for him to win a prize with Africell but he has been a subscriber for over four years now. He called on his friends and Gambian at large to subscribe to Africell as they are caring and sharing.
Momodou Lamin Touray, also a winner, who won a bag of sugar, said this is the second time for him to win a prize from Africell, noting that Africell is reliable, fast and has a very strong network system.
Neneh Mendy, a resident of Bundung, who won a DVD player, said Africell is really supporting Gambians and has created job opportunities for many Gambian youths and has been very supportive in the area of sports.
Read Other Articles In Article (Archive)