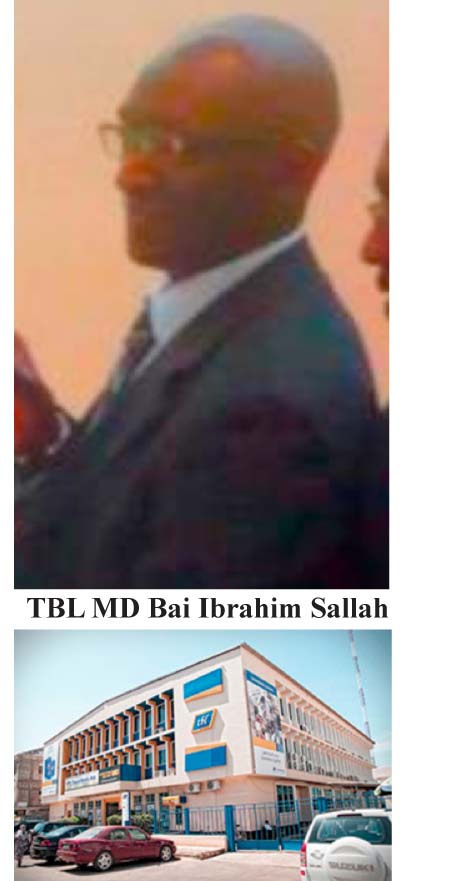 Trust Bank Gambia Limited Wednesday donated items including detergents, clothing, shaving machines, plumbing and electrical materials among others, worth D100,000 to the Tanka Tanka Psychiatric Hospital in Mariama Kunda.

Speaking at the presentation ceremony held at the hospital conference room, Bai Ibrahim Sallah, Managing Director of Trust Bank, said their collaboration with the hospital started in 2014 when the bank saw the need to extend a helping hand to this health facility.
Trust Bank was determined to initiate a change and "significant part of that change is the professionals working tirelessly" to get people back on the road to recovery, he added.
"I would like to urge the honorable Minister for Health and Social Welfare to identify those hardworking men and women going that extra mile to help people with mental health issues, and nominate them for national awards. We owe it to them to give them the recognition that they deserve," the TBL MD said.
MD Sallah also said the bank would continue to work with the Ministry of Health to improve mental health services for young people, and also preventing more people with severe mental health problems from ending up in the streets, in police cells and prisons.
Dr. Omar Sey, Minister of Health and Social Welfare, said he was very happy to be associated with the Trust Bank activities.
He said the bank had been there for the health sector when there was nothing, and thanked the bank for their usual support.
He explained that mental health medication is the most expensive medicine among the medicines, and that without Trust Bank they would not have been able to achieve a milestone, while urging all Gambians to bank with Trust Bank.
Also speaking was Dr Momodou Lamin Waggeh, Director of Health Services, who said mental health is a top priority on their agenda, and "the Ministry of Health is doing all it takes" to ensure services are brought to the doorstep of every Gambian.
According to Dr. Waggeh, "Trust Bank is an old friend" to the said hospital, as every year the bank would donate to the hospital through the Ministry of Health.
Omar Bojang, matron of the hospital, said the hospital started operations since 2008 and harbours 100 patients, for whom they usually provide breakfast, lunch and dinner.
He commended his staff for their support, adding that Trust Bank came to their aid annually after enquiring about their problems.
Bakary Sonko, programme manager, mental health, chaired the occasion.
Read Other Articles In Article (Archive)