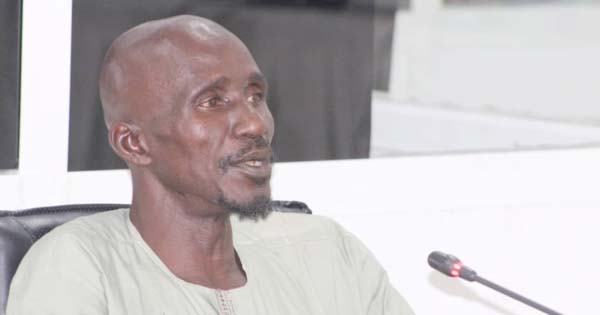 Sanna Manjang, a onetime Yahya Jammeh's most trusted assassin had allegedly butchered Kajali Jammeh – an alleged MFDC rebel from Casamance and fed the Kanilai crocodiles with his remains, Ensa Keita told the Truth, Reconciliation and Reparations Commission on Thursday 5 March 2020.

As Eye Africa reports, the 56-year-old man gave accounts of the events leading to his arrest and torture and the execution of captives in Kanilai.
He told the TRRC that Kajali, also called Lecoc was arrested by Sanna Manjang when he went to Kanilai to sell cannabis to buy food.
"Sanna Manjang told Kajali that the day I arrested you, you were resistant to the extent of turning blows at me. Today you are under my control," he testified. "Whatever pleases me I will do to you. I will kill you, take your head inside and take your corpse and give it to the crocodiles," he threatened.
Keita further adduced that when Sanna threatened to kill Kajali, he (Kajali) told him that he was not afraid to die. However, this did not go well with Sanna and he insulted Kajali's mother.
"He just turned the sword and swung it and Kajali's head went on the side and the body went on the other side," he added.
He said he was terrified, saying he had never seen such a horrible thing in his life.
The witness further stated that Sana stamped on Kajali's head and told one Sulayman to bring a bag for him.
"Sanna held the man's head and put his two fingers in his nostrils and said everything will be clear now. He put the man's head on the bag and went."
He said Sanna told Badjie that the crocodiles will be fed with Kajali's remains.
He went on: "He (Sanna) brought a cutlass and chopped off his legs. He came to his wrist and chopped it off and after he cut it off and moved to the chest and tore it from the middle and put it inside a bag and headed to where the crocodiles were. He said 'let's f..k* give it to the crocodiles to have dinner."
Read Other Articles In Article (Archive)