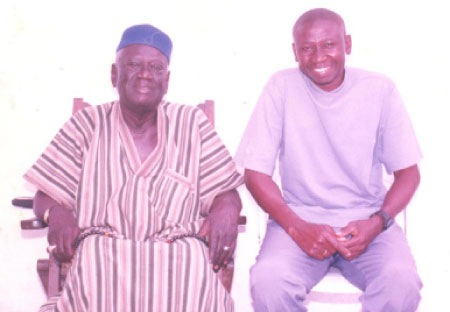 A veteran politician, scout master and historian, Alhagie A.E. Cham Joof alias SM was born to the late Ebrima Joof and Ajaratou Annah Samba of Number 7 Griffith Street, Half Die in Banjul 88 years ago in 1923. He attended St. Marry Anglican School and St Augustine Secondary School between 1937 and 1945.
According to the former Editor-In-Chief of the Daily Observer, Mr Baba Galleh Jallow, uncle A.E. Cham Joof's active public career began with the formation of the Gambia Young People's Association and culminated in his recently ended tenure as member of the National Consultative Committee set up to study and review the AFPRC government's programs of rectification and time table for transition to democratic constitutional rule in the Gambia.
As early as 1943 at the age of 20 and still a school boy, Uncle AE Cham Joof was made leader of a Gambian Contingent of boys scout travelling to Mali. He was assistant scout master from 1946 to 1952, when he was founder and first group master of 5th Bathurst. He won the prestigious Wood Badge in scouting in 1954 and represented The Gambia at the Coronation Service of Queen Elizabeth II at Westminster Abbey in London in 1952. He was elected city councilor, soldier town ward, Bathurst and also served as secretary of the Gambia Democratic Party.
He was prominent among the organizers of the Bread and Butter demonstration, which spearheaded constitutional development in the Gambia. He sat with Julius Nyerere, Oliver Tambo and Kenneth Kaunda among others at the second Pan African Youth Seminar in Dares Salam, Tanzania. In 1964, he was founder member and Secretary of the Gambia Development Company, which is reported to have introduced Tourism into this country.
In 1965, he founded Bathurst Studios, where young men were trained on arts and craft. It was this studio that designed and produced the BCC coat of arms. In 1966, he was founder member and secretary general of the Gambia Farmers and Fishermen's union and also served as secretary to Alex Haley, when he visited The Gambia to research the Roots in 1967. In 1978, he was a founder member and secretary of the Mbotaye Xam Xami Wollof, Wollof Wisdom's Association, which was instrumental in spreading knowledge of our traditional history and values.
He joined radio Gambia as a freelance broadcaster in 1968 and became head of the local languages section in 1974 and retired from active service in 1982. The late AE Cham Joof was gifted with ample knowledge of Senegambian history. I remembered when ever talking to him, he always displayed a smile on his face and he always told me that the secret to success is the willingness to serve without aspiring for rewards. He was very instrumental in dealing with his close associates within the Senegambian region as a whole.
The demise of Uncle AE Cham Joof brought tears to many people's eyes. He was a dynamic and soft spoken person, who kept a very low profile. His door was always open to anyone in need of his service. His demise on Sunday 2nd April 2011 came as a shock to many people within the Senegambian region. As the saying goes, the hardest steps of a journey are the last steps. Not only the Joof family or close associates of uncle Cham Joof, but the entire nation has lost somebody special. The few words I would like to extend to his family and close associates are that there is no sorrow on earth that heaven cannot heal. So let us all believe and take comfort in God.
Read Other Articles In Article (Archive)