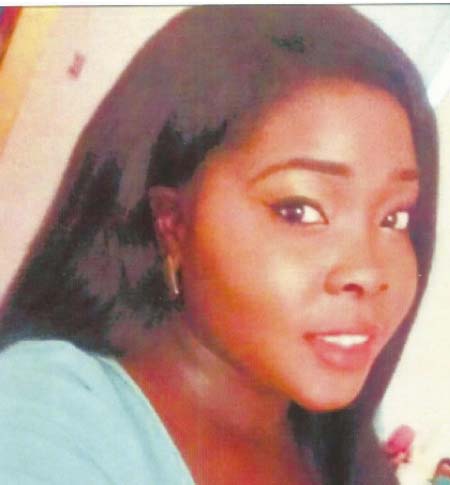 It was the early of a Sunday Morning when we were woken by a phone call that everyone must dread: our sister had died in a car accident. One had to be told twice for the news to sink in. Disbelief, shock, devastation, - actually these are mere words, and some things are too deep for words. One only feels wordlessly; a feeling of unappeasable pain descending, like a cloud, in our hearts, and eyes. It rips through the tear ducts, letting out streaming tears, which run down our cheeks, ferrying our helplessness onto our laps. A part of us died with her that day.
Neneh Girl died at a stage when she had her whole life ahead of her. And she had bright, bold ideas about how she was going to spend every minute of it. She was full of energy, and focused every ounce of it on trying to make herself a success. Career-wise she believed that the stars were the limit, and was consequently quite tough-minded and determined to crack the glass ceiling and head for the top of her ambitions. Yet she had a sensitive spirit and was as caring as she was sweet-natured; always had a smile on her face,  was unfailingly respectful to other. She was not only our sister, but our friend and confidant as well. She was never the one to intrude in anything that didn't concern her. Never the one to disparage anybody, and never the one to put on superior airs. She had her feet firmly on the ground, and we thank Allah for the precious thirty years we spent together.
Neneh Girls was born on 13th September 1985, on a Friday afternoon. Our memory of the occasion is still vivid: the elation, joy and pride that the whole family felt. Being a close-knit family, we were all in high jinks. Indeed, she got the affectionate name 'Neneh Girl', because we simply could not wait for the naming ceremony, and referring to her as 'the baby' was not quite satisfying either; so Neneh Girl was proposed. And, I suppose, after the ceremony we forget to move on to her actual name, Isatou, named after our grandmother, for everyone simply continued calling her Neneh Girl.
As a child, she was our little jolly girl, the 'Chaart' bringing much laughter and lightheartedness to everyone. She was intelligent and curious about things: openhearted and openly communicative with everyone around her, whether family friends, neighbours or even strangers. we could take here anywhere and trust that she would behave herself well.
On starting school, at Marina International, she demonstrated the intelligence we had discerned, producing outstanding results in tests and exams, and receiving glowing school reports on her attitude. At the age of nine, she left for England, where she did her secondary and university education. It was thanks to her maturity and strong sense of purpose that she never let anything derail her from the proverbial straight and narrow path. She graduated with Honors in Media Studies from Kingston University in 2006. She also held a professional qualification in marketing from the Chartered Institute of Marketing. 
She had high hope for her future, and set her career goals early on and never wavered in pursuing them. She also never wavered in her love and loyalty to her family. We remained very close throughout her period in England. She was always concerned about everyone, and had never asked for anything more than was necessary. Her loving sympathy for her siblings was as irrepressible as it was admirable, and we will eternally remain grateful to her.
Hers was the sort of character that attracted friendships and retained them. She introduced us to her closest friends, who come from far and wide, and some of whom had been friends with her since their high schools days. Her closest friend, Farida, is Nigerian, and Neneh Girl particularly liked going to Nigeria to visit her. And so it was, in January this year she had visited her in Nigeria, and had decided that before returning to England, she would make a whistle stop, as it were, in Banjul to see the family.
And also perhaps to share with us her good news: on her return to England, she was to begin a new job, as Media Executive, a job she really was looking forward to; understandably she was thrilled and ecstatic and could hardly contain herself. And neither could we, for everyone else got excited over the news, and wished her well.
She was to take her flight back to England on the evening of Sunday 10th January 2016 - she died at around 4am on the same day.
The whole family gathered; distraught but united, and gave her a dignified and solemn burial. We owe a tremendous sense of gratitude to our friends, neighbors, and well wishers from all over the world. They all stood by us in our hour of grief, lending support and encouragement. Until today, never a day goes by when at least one of us would not receive sympathy calls or visits from people coming to express their condolences on Neneh Girl's death. At her funeral it felt as if everyone was there. The whole family is extremely grateful for the support. Grief shared is perhaps pain halved. And without this support, the healing process would have been impossible to begin. Our heartfelt Thank You also go to Neneh Girl's friends, in the Gambia and abroad, and everyone else who had loved and cared for Neneh Girl in her life. We were especially heartened by the fact that some of her friends' parents flew over to Banjul to sympathise with us. We know that they will miss her as much as we would, and that her memory will remain alive in them as much as it will in us.
Faith and acceptance have been our sustaining spirit, carrying us through our ordeal. Life throws up challenges, and our Faith sees us through them. Our duty now is to accept Allah's will and continue to pray for our sister, as we have always done, accepting that Allah does what is best. And the 'void that her parting has left, we will fill with remembered joys', and commemorate the fact that though her time with us seemed all too brief, her life was rich with humane and productive passions.
May Allah bless her Soul
Read Other Articles In Article (Archive)