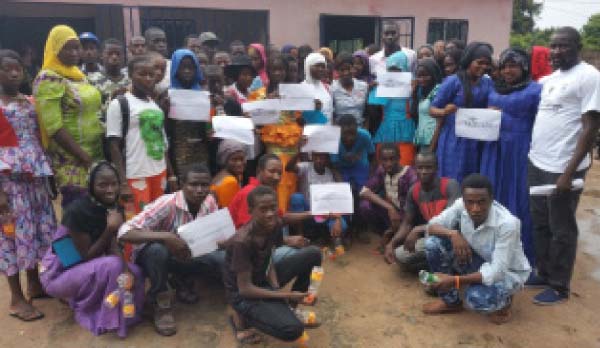 (Tuesday September 06, 2016 Issue)
A one-day training course on leadership has been organized for 70 youths and young adolescents enrolled in the Saamasang Federation- ChildFund sponsorship programme.

In his remarks, Lamin Fatty, Program Development Officer for Kabafita and Bafuloto Community Associations, urged the participants to take the lessons seriously, as the course would create the environment for them to realise their potentials.
He also implored them to utilise the skills learned during the training course in order to become successful leaders in their communities, noting that many were called but only few are chosen.
Ebrima Sonko, a Community Mobilizer, observed that exposing the young leaders on effective leadership skills would enhance the mobilisation of enrolled families to fully participate in the sponsorship programme, which could help in the retention of sponsors and the reduction of cancellations.
Ousman Joof, a field supervisor, echoed similar sentiments.
The resource person, Alieu B. Sillah, took them through Leadership Strategies for Personal Growth.
Leading people and change, developing personal codes of ethics, the art of public speaking and networking to get ahead.
The training course was interactive as participants were given group work to discuss, brainstorm and present in front of their fellow participants.
This was meant to enhance their understanding of the topics treated during the presentations.
The resource person also successfully hosted "Yali Learns" event, focused on understanding the rights of women and girls.
This activity was so interactive, lively and educative as young people were able to bring forward issues affecting them.
At the end of the training activity, all the enrolled children were asked to write spontaneous letters to their sponsors, to inform them about the training course, and how it would impact on their lives as young leaders.
Read Other Articles In Article (Archive)