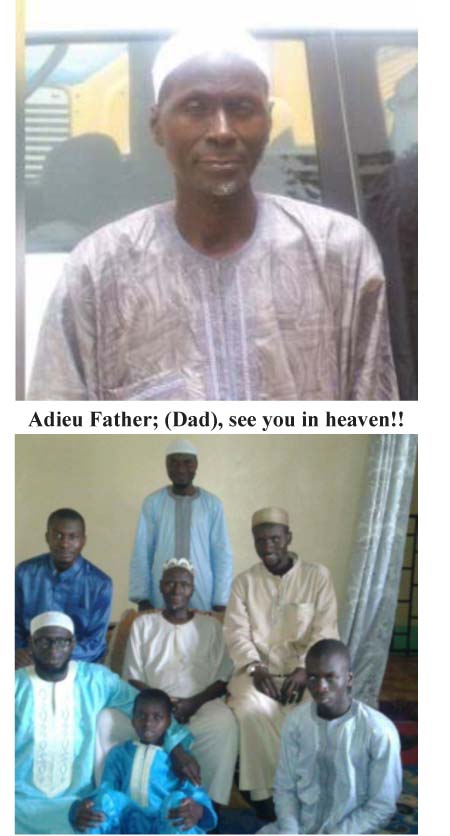 (Wednesday August 31, 2016 Issue)
All these past days, I have been trying to figure out between death and life. So far I have come to realize that depending on what God has destined our earthly time to be, we could hang around for as little as a second on the clock or if lucky for as long as our folks with longer lives.

It all goes to show that we need to value life after death, a journey of no return and to cap it all the inevitability of death where human life ends.
I reflect on death because it has taken away the greatest son of our land. His name is Alhagie Jawara. The news of his demise that shocked the entire nation was announced on Friday August 26, 2016.
The late philanthropist who hails from Badibou Kerewan spent decades in Bakau New Town where he settled with his family. He passed away at a private hospital in Banjul. May his soul rest in peace.
As I try to write this short tribute honoring the life of a man who has rendered tremendous service to humanity, I'm still in absolute disbelief and pain over his untimely death.
He was a highly respected community elder/leader who has spent his wealth/properties to help his community and mankind in general. The late Alhagie Jawara was a distinguished personality.
He was consummate, entrepreneur, industrious and above all faithful.
There is no single soul connected to Alhagie that has not benefitted from his goodwill gesture and wealth, either directly or indirectly, far and near, Gambians and non-Gambians alike. He was that sort of a generous man. His contribution to Islam cannot be overstated.
Go to his home in Bakau New Town, where almost every child in the neighborhood gathers to recite Quran that teaches them their deeds. He is the man who made all that possible with the help of Allah.
His charity worked while he was alive, the late Alhagie Jawara has made an immense financial contribution in his effort to help close and long-distance families, friends, relatives and neighbours.
He was hugely involved in community work such as masjids etc. And he did it with humility and diligence. Added to that is his steadfastness and kindness to everyone around him.
It has ever been a tradition that every year; hundreds of people would gather at his Bakau New Town residence to receive charitable donation as a way of giving out to the poor and the needy.
That's exactly the way he has lived his life. The fallen hero has led a foundation for people to move forward through his lucrative business industry.
Jawara is widely described as a doyen whose hard work and selfless service to the people made him the most generous person that I have known.
I could confirm his humbleness without an iota of doubt as I am a living witness to his humility and generosity.
For example when I visited him at his house two months ago, he took two hours of his valuable time trying to engage me in meaningful conversation.
My interaction with him did not only give me the chance to listen to him as he offered inspirational advice and prayers, but also availed me the opportunity to learn and follow his religious path to be more God-fearing, humble and more so a better Muslim/person.
You follow his footsteps, you get rewarded here and hereafter because he has lived that kind of a life. Believe me he spoke to me just exactly the way an inspirational father would talk to his son.
Little did I know that would prove to be our final meeting. Two months later I got the devastating news that the man whom I see as my mentor and a father-figure is gone - oh death; you have taken the life of a man so rich with people, wealth and faith.
Such is the character of the man who has instilled the spirit of confidence, motivation, ambition and faith into his children.
He never lived a lavished life to the detriment of his children, for that he would forever be respected and admired till we meet him in Jannatul Firdaus.
Read Other Articles In Article (Archive)