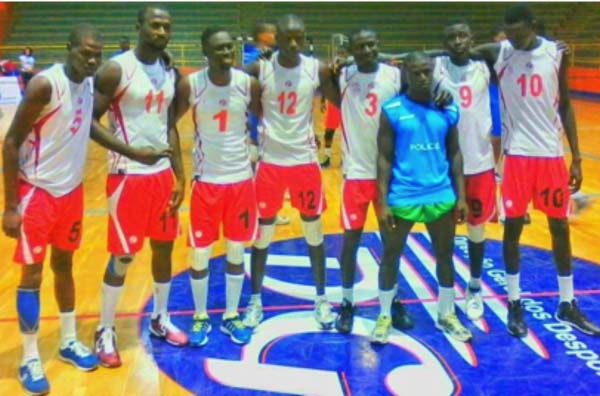 The Gambia men volleyball team have been handed a tough task in their first-ever appearance in the men indoor All Africa Games.
The Gambian stars are set against five-time champions Egypt, 2011 hosts Mozambique, and 2015 hosts Congo Brazzaville.
The other opponents will be Botswana and Nigeria in pool A of the 11th edition of the All Africa Games 2015 in Congo Brazzaville.
The Gambia claimed silver in Zone 2 qualifiers in Cape Verde from a pool that comprises Senegal, Mali, Mauritania and Sierra Leone.
The Gambia would surely be the dark horses in the pool and will be looking for their first continental silverware.
The enthusiasm of the Gambian team emerged from the re-energised Gambian national federation that recently changed leadership.
The Gambia ranked 2nd in Zone II and have recently organized two coaching courses: level I and level II, to enhance the capabilities of the technicians, which has proved productive in the country's recent exploits in Zone II.
The head coach of the Gambian team Ebrima Nyass reacted to the draw, saying they would come all out to make upset.
"We are going to play against diverse nations with different styles of modern volleyball, so we have to prepare expansively," he said.
"There is no need to explain that we will be competing against teams from the best volleyball nations in Africa. I am pleased that we will get to know all the renowned styles and background of African volleyball.
Nyass went on to dismiss Egypt's dominance in the Games, saying: "We respect Egypt for the fact that they are one of the most decorated teams in the history of the Games but we can make upset."
Senior player Sanu Secka believes this is an opportunity for The Gambia to be known in global volleyball.
"We work hard to book qualifications; now we are in Congo and the target is the gold medal," the attacker said.
All Africa Games will be hosted by Congo Brazzaville from September 4 to 19, 2015 where the 12 teams of each category will be divided into 2 preliminary pools, each playing a round robin and the top 2 teams qualify for the semifinal.
The winner of Pool A meets the second of Pool B and the winner of Pool B faces the second of Pool A in the semis, where the winners will qualify for the final and the losers play for the bronze medal.
The preliminary rounds for the All Africa Games will be played in two groups constituted as follows:
Pool A: Congo Brazzaville, Mozambique, Egypt, The Gambia, Nigeria, and Botswana
Pool B: Cameroon, Cape Verde, Algeria, Rwanda, Seychelles, and Ghana
The Gambia is also through to the beach volleyball finals, waiting to know her faith in the groupings. 
Read Other Articles In Article (Archive)