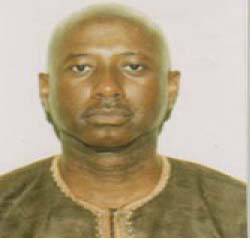 The minister of Local Government and Lands, Hon. Pierre Tamba, on Monday presided over the opening of the national inception seminar of Gambia Association of Local Government Authorities (GALGA) on strengthening transnational partnership and network for enhancing participatory local governance project.
The forum, which drew participants from various councils within the local government structures, was held at the Banjul City Council.
The seminar was organised by GALGA, in collaboration with Urban Council Association of Zimbabwe and National Association of Local Authorities of Ghana, and was partly funded by the European Union under the Non-state Actors.
The main aim of the seminar was to expose participants to the objective and activities of the important capacity building project aimed at enhancing good governance.
In his opening speech, the minister of Local Government and Lands, Hon. Pierre Tamba, said the government attaches great significance to the project.
"The overall objective of this project was to support transnational exchanges of lessons and good practices between local government associations for enhancing municipal service delivery," he said.
He asserted that according to the project document, there are four specific objectives which are to be addressed.
He added that they include strengthening Local Government association networks in partner countries, improving democratic governance in municipal service delivery, enhancing regional solidarity through city to city cooperation, and strengthening the capacity of local communities for self-sustenance.
Hon. Tamba stated that the project will contribute towards the decentralisation and Local Government reform programme, which is a key cornerstone of the Poverty Reduction Strategy Programme, now known as the Programme for Accelerated Growth and Employment (PAGE), which is mainly to improve service delivery to the poor.
According to document, the project has a life-span of 36 months effective January 2011 to 2013.
The minister said that one of the targets of the project is to enhance regional solidarity, which will facilitate city to city cooperation in partner countries; that is Zimbabwe, Ghana and The Gambia.
The project will bring together players at Local Government level to share experience on development and governance priorities.
He then used the occasion to thank the EU for their support while calling them as a real genuine partner to the Government of the Republic of The Gambia.
Other speakers on the occasion included the secretary general of GALGA, Mustapha Njie, the president of GALGA, Mayor Samba Faal, the permanent secretary of the Ministry of Local Government and Land, Saikou Sanyang.
Representatives from Zimbabwe and Ghana also spoke at the meeting and described their relationship with GALGA as "very cordial".
Read Other Articles In Article (Archive)