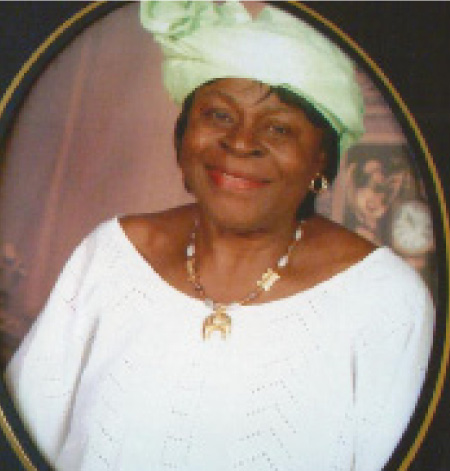 Martha Violet Joko Senghore fondly called Aunty Joko or Ma Joko, but to me I say Joko Mbye.
You lie tonight silently waiting for your journey to heaven. Your going away pains my heart. Friday 25 January 2013 will never be forgotten.
We shared so many things together and these were no co-incidence. These were God's work. From St. Joseph's High School where you were two classes ahead of me, you then went to the Teachers' Training College in Yundum, then to the Royal Victoria Hospital maternity ward where you again joined me and then to Georgetown McCarthy Island Division where Papa Tom your husband was the then Commissioner and Kuni Boy my husband was the Senior Master of Armitage High School. We then proceeded to the United Kingdom to join our husbands and later when I returned home, I worked with the Standard Chartered Bank of West Africa (SBWA) where you also joined me. These were no co-incidence. No No No this was God's connection and doing.
Every day after work at the Standard Bank, we would go the the Albert Market Banjul to buy meat from the late Mormar Jammeh our favourite butcher or Sanusi Sarr and then to Ndongo our fish monger to buy our fish and then to Awa Jatta for smoked cat fish and then to Ida Jawo and Ya Cora Sigindi for our vegetables. All these we did together.
In May 1977, when my mother Mama Nancy was sick and dying, she asked you to take care of me your younger sister, even though she told you that "Dafa Degar Bopa" which of course you found out to be true because at times I would answer you back and you in turn would say "Sarah Goddard man nga tonto" and then I would reply "Hanadu one year 5 months rek nga ma mag ge."
You tolerated me in so many ways. There were times you did not act as a friend or a dear sister but a real Mother. Thank you Joko Mbye and please know that whenever the Latin preface "Vere digum est" is sang in church I will remember and think of you.
Joko Mbye who will now call me from the United Kingdom or from wherever you were to remind me that 3 'O' clock Good Friday is the time and the beginning of the Nine Days Divine Mercy Novena?
Joko Mbye recently when you were admitted at the RVTH at room no. 9, between 7am to 7.30 am we would say prayers together and at times when the sea was rough and you could not recite the prayers because of illness, you would repeatedly recite AMEN at the end. You were indeed a true believer. It was that same Room 9 in November 1985 that I was admitted and you were by my side and on the 3rd day of my admission you were called to go home because Tisbeh was down with malaria. You left the room with strict instructions to my niece Adelaide Sosseh not to leave the room until you come back. At the time my children Maggie and Paps were studying in the UK and my two sisters Tata Obi and the late Mamo Goddard were in Dakar, Senegal but it was you a true sister, friend and mother was by my side.
To the entire family and to my own family I say let us take courage and solace in the Lord knowing that Joko Mbye is in heaven.
Joko Mbye rest in perfect peace until we meet again in Heaven.

Adieus my sister and friend.
From Ya Sarah Goddard Joof
Read Other Articles In Article (Archive)