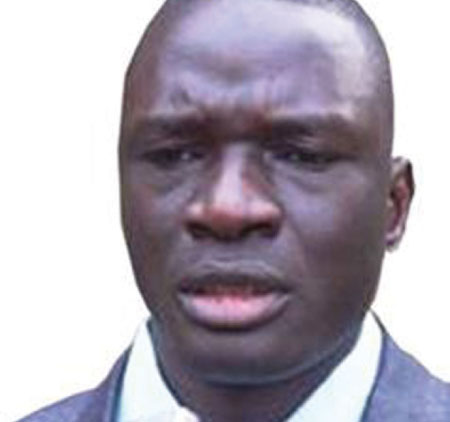 Trial resumed Tuesday of the case involving Mambanyick Njie at the Banjul Magistrates' court before acting Principal Magistrate Dawda Jallow.
Mambanyick Njie, former permanent secretary at the Ministry of Youth and Sports, was arraigned before the court, charged with giving false information to a public officer, a charge he denied.
It was stated in the particulars of offence that Mambanyick Njie, on 1 March 2012 in Banjul, whilst serving as Permanent Secretary Youth and Sports, wrote a petition to the Office of the President, stating that the ex-Gambia Football Association (GFA) Executives were engaged in malpractices and never gave a thorough account of the imprests given to them for international matches and, therefore, sought approval to dissolve the said GFA Executive, information he knew to be false or did not believe to be true.
Testifying, Abdouraman Jobe, a police officer attached to police fraud squad, told the court that on 30 October 2012, his station officer asked him to obtain a cautionary statement from the accused person.
"I invited an independent witness by the name Fabakary Kinteh of Sukuta," said officer Jobe.
He further informed the court that he read the cautionary wordings to Mr. Njie, adding that both he and the independent witness together with the accused person signed the said statement.
Asked by the police prosecutor, Sergeant Almameh Manga if he could identify the said statement, he responded in the affirmative.
After the identification of the said statement by the witness, the prosecutor applied to tender it in evidence as an exhibit.
Defence counsel Antouman Gaye informed the court that it was the first time he saw the document, and therefore would need time to peruse it.
However, he did not object to the admissibility of the said document, and it was eventually admitted and marked as an exhibit C.
Prior to the testimony of PW4, the prosecution reminded the court that the matter was for the cross-examination of PW2, Kemo Ceesay, but he was absent from court on the grounds that he was bereaved.
He therefore applied to have another witness if it was convenient to the court.
The application for interposing another witness was objected by the defence on the grounds that they were in court purposely to cross-examine the head of finance at the Gambia Football Association (GFA), Mr. Ceesay.
"I'm ready to proceed with PW2, but not with another witness," said defence counsel Gaye.
Sergeant Manga again argued that the matter had suffered some setback, and that was why they wanted to proceed with another witness.
The application for interposing another witness was upheld by the trial magistrate on the grounds that the matter had not been proceeding for some time.
The trial was then adjourned till 21 February 2013.
Read Other Articles In Article (Archive)