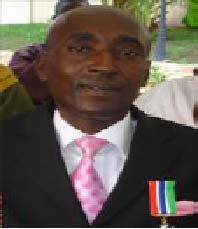 The trial for alleged sedition and giving false information involving lawyer Moses Richards resumed yesterday at the Banjul Magistrates' Court before acting-Principal Magistrate Taiwo Ade Alagba.
When the case was called, state counsel Ms M. Jobe, who held brief for D.O. Kulo, told the court that the state was applying for a short adjournment on the grounds that she has never appeared in the case before and, as a result, she could not proceed with the cross-examination of the witness.
She added that, alternatively, the court could grant her a stand down to contact the counsel handling the case to come or assign another counsel to attend the case.
Responding to the application made by the state counsel, senior defence counsel, Antouman Gaye, told the court that the defence was not opposed to the state counsel's request for either an adjournment or stand down.
Counsel added that the court has powers to close the cross-examination, since the state counsel was not in court, and the defence was ready to proceed with their fourth defence witness (DW4).
However, the trial magistrate insisted that the prosecution must finish the cross-examination of the third defence witness, (DW3), otherwise he would close the cross-examination and ask the defence to call their next witness.
He consequently granted a stand down, and when the case was recalled, D.O. Kulo announced his appearance for the state, but then the defence counsel Gaye told the court that he had another matter at the high court, and applied for an adjournment.
The trial magistrate insisted that the defence counsel must proceed so that the court could finish with DW3, but the counsel maintained that he could not proceed, as he had another matter at the high court.
The magistrate told him to go, but the court would proceed with the case and counsel Gaye subsequently walked out of the courtroom.
The witness was then asked to get into the witness box, and Momodou Lamin Colley under cross-examination told the court that he has never been to Jabang village prior to the execution.
He added that his assignment was to go and find out what had happened, and not to act.
He denied saying in his evidence-in-chief that he has a legal department at his office.
The case at that juncture was adjourned uptil 21st July 2011.
Read Other Articles In Article (Archive)