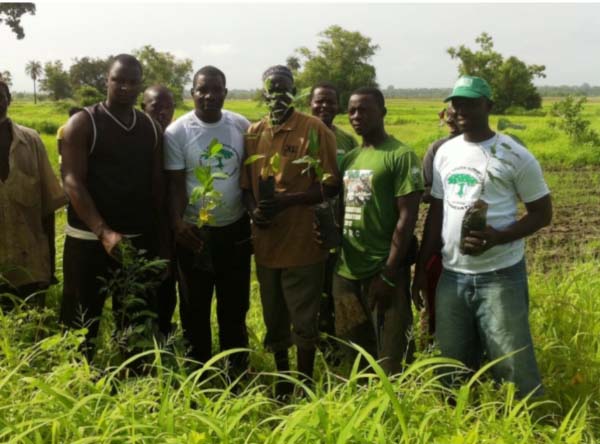 Lamin Sawaneh, regional forestry officer, Lower River Region, has said trees are of economic, social, medicinal and ecological importance to the people, animal and environment.
"The trees we are planting here today will have ecological importance because they are going to protect the Arabic school from wind storm and the fruity trees like mango would also serve as a source of food for the students," Mr Sawaneh told journalists on Saturday during a tree planting exercise at Jattaba village organised by the Jattaba Youth Development Association (JYDA).
The association has planted more than 900 trees of different species at different parts of the village such as the Arabic school, women's garden and beside rice fields.
The regional forestry officer said trees reduce carbon dioxide from the atmosphere and induce rainfall which is good for agricultural production and other income generation ventures.
He advised JYDA and the community as a whole to not only stop at planting trees but also put in measures to protect them from fires and animals.
"Planting these trees is one thing, but maintaining them is another.Over the years, we have embarked on series of tree planting exercises but the survival rate is very low because they are not protected," he noted.
Sulayman Darboe, auditor to JYDA, noted that the trees would be taken care of by the community.
He called on the village dwellers to maintain the existing unity among them because without unity no community would develop.
Sainey Manka, public relations officer of JYDA, said they have planted more than 700 gmelina, 200 mahogany, 50 mango, 50 cashew and 50 cordilla pinnata trees.
He said the association is in consultation with the village development committee, village elders and other stakeholders of Jattaba so the planted trees can be protected.
Mr Manka also called on the village youth to make sure the trees are well protected, saying everyone, especially the youth, has a role to play if the village is to develop.
In another development, JYDA has organised a friendly football game between Jattaba and Jula Kunda to nurture the existing cordial relationship between the two villages.
The game ended two-nil in favour of Jattaba.All goals came within the first 20 minutes of the game through Bakary Soma Darboe and Alagie Ansu Camara respectively.  
Read Other Articles In Article (Archive)