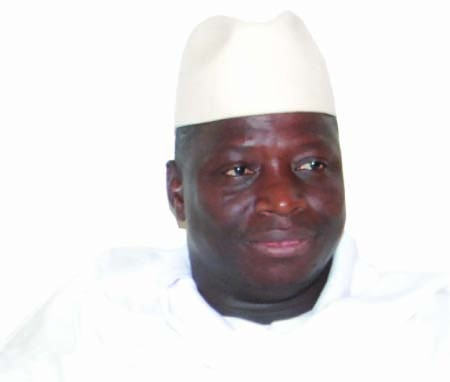 President Yahya Jammeh has said that his government "will never tolerate or compromise" with terrorists.
He made this statement on Wednesday at the 50th independence anniversary celebration graced by thousands at the Independence Stadium in Bakau.
Addressing the nation, President Jammeh said: "My government is highly appreciative of the myriad of solidarity messages from all corners of the world condemning the heinous and suicidal terrorist attack on the State House and commending our valiant and gallant security forces for their instant neutralization of those foreign-based terrorists.
"Let me also assure you that we will never tolerate or compromise with terrorists.
"By the grace of Allah, we will always wipe them out with whatever means necessary without hesitation.
"Terrorism, hate and hegemony have no place in this 21st Century global village. All Allah-fearing and worshiping people of all faiths and races must stand united against this global menace."
President Jammeh also said independence is imperative for the restoration of the right to sovereign self-determination and to be architects of one's socio-economic, cultural and spiritual destiny; that independence is not synonymous with isolationism.
"We live in an interdependent world, which calls for mutual support, respect and the elimination of hegemony, exploitation and paternalism in the relationship between nation states," the President said.
Adherence to such principles, he noted, guarantees socio-political stability and international peace and harmony.
"The track record of my government has not been wanting in this respect," he said, adding: "We have brokered peace through mediation of conflicts and disputes in the sub-region and beyond.
"The performance of our security forces in peacekeeping missions sanctioned by the UN and other regional and sub-regional bodies has also been regularly commended.
"My government will ensure continuity in these attributes of our foreign policy based on reciprocal observance of the principles of good neighbourliness, respect for the sovereignty of states and non-interference in their internal affairs."
Whilst assuring the world at large that The Gambia would not falter in this pledge, Jammeh noted: "Let it also be known that The Gambia expects all nations of the world to reciprocate this principle, and we will not tolerate any breach of our sovereignty, independence, peace and stability without such country paying a very high price --- In sha-Allah."
Read Other Articles In Article (Archive)