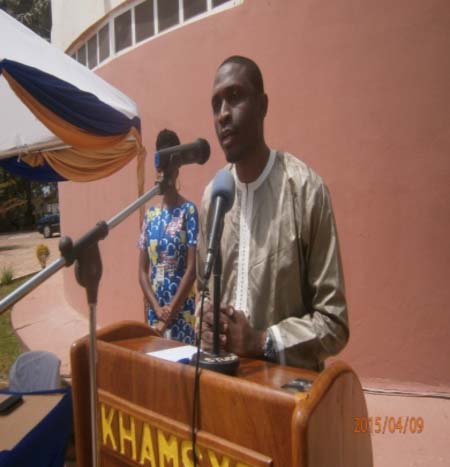 At least 80 young information communication technology (ICT) professionals from Gambia, Ghana and Nigeria are undergoing training on advanced theoretical and practical knowledge and skills in ICT.
The training, dubbed 'ICT Training Camp 2015', is to run from 9 to 28 April at Khamsys Training Centre in Bijilo, organised by ACE Communications Executive, a local communications and public policy firm.
The camp is meant to further equip and enhance the knowledge and skills of the young ICT professionals, ages 24 – 35, on cyber security and advanced intrusion protection, geographic information service and data management, application development, and E-commerce.
Fatim Badjie, chief executive officer (CEO) of ACE Communications, said the training whose idea was first developed in 2013 is organised cognizant of the growing demand of different sectors in West Africa for advanced skills in ICT.
Two years later the idea has seen the light of the day with 80 young ICT professionals from Ghana, Nigeria and Gambia who will have the opportunity to advance their theoretical and practical knowledge in ICT during the 3-week camp.
Ms Badgie, a former communications minister, said the camp would give special focus to ICT challenges and opportunities in areas that are current and relevant, most especially aligned with strategic priorities for public governance, private sector growth and entrepreneurship within the ICT sector of West Africa.
Lamin Camara, permanent secretary of the Ministry of Information and Communications Infrastructure, said: "The training is very important and will form an integral part in bridging the digital gap."
ICT security, he said, is bedrock for technology acceptance and utilisation as it will build confidence and trust in the use of ICT which addresses a key element of the objectives.
He said the Ministry of Information has seen the camp as an intervention which is also going to play a key role and enhancing their objective to achieve what they want in ICT in The Gambia.
This is why The Gambia government has sponsored 21 participants from different ministries to take part in the camp.
DPS Camara said ICT is important for development and serves as a cornerstone for economic advancement of any nation.
But this must be underpinned by highly trained and skilled human resources, he said.
Mbaye Kah of Khamsys Centre said all the participants would acquire new ideas in understanding project development as they work as a team with peers from different cultural backgrounds to promote regional integration.
Khamsys Training Centre was established in 2008 but commenced operations in 2012.
Officials of the centre, together with a range of internationally recognised ICT trainers, are delivering the course modules during the training.
EndFragment
Read Other Articles In Article (Archive)