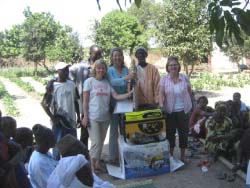 Yagana World Foundation, a Holand-based organisation set up 11 years ago to help needy and underprivileged Gambians, on 19 February 2011 made a handsome donation to the community of Fass Njaga Choi in North Bank Region.
The organisation handed over new pumping machine, garden tools, generator, pipes for distribution of water and high quality seeds to Nailerr Foundation, a garden project in Fass Njaga Choi Village, Lower Niumi District, North Bank Region.
The same donor on the same day handed over four cartons of medical items to Fass Njaga Choi Clinic. The items were initially donated by Rykzwaan-Holland, a world renowned seed provider company which supports the Millennium Development Goals.
Speaking at the handing over ceremony, Dinemarie Langereis, the founder and chairwoman of Yagana World Foundation, said that when she came to The Gambia for holiday and found out that some people were poor, she decided to bring 15 containers with medicines, sports materials, baby items, school materials and other items to the country.
At the beginning it was not easy, he said, adding that at the moment they are sponsoring 35 students who are from poor families, some of whom have lost either one of their parents.
She noted that they have also donated items to needy communities including Banjulinding, Makumbaya, Kaur and Fass Njaga Choi.
The foundation has impacted positively on the lives of many people with projects in different parts of the country, adding that their intervention is multifaceted and includes areas like health, education and agriculture. 
Ms Langereis said that Yagana World Foundation and Nailerr Foundation would like to thank Ms Sylvia Galli from Hamilton, Canada, for helping to raise funds for the garden project in Fass Njaga Choi and also thanked their sponsors in Holland.
Ebrima Badjie, assistant chairperson of Yagana World Foundation, stated that their intention is to work hand in hand with all stakeholders to complement government's efforts.
Tamsir Njie, founder and chairman of Nailerr Foundation, thanked President Yahya Jammeh, Dinemarie Langereis and her cousin Sylvia Galli, their sponsors in Holland and all those helping the Nailerr Foundation in Fass Njaga Choi.
Mr Njie stated that they appreciate the timely support of Yagana World Foundation and also thanked Ms Langereis for her trust in him to oversee the project.
Modou Kebbeh, project manager for Nailerr Foundation, thanked Tamsir Njie for supporting the garden project.
Mr Kebbeh also appealed to more donors and investors to come to their aid in lifting the standard of the foundation to higher heights.
He said their major constraint is lack of means to fence the garden, as well as chemicals, fertilisers and transportation.
Other speakers at the ceremony included Mustapha Joof, the Alkalo of the Village, Imam Omar Choi, the Imam of the Village, Baboucarr Choi and Musu Sowe both health workers at the Fass Njaga Choi Health Post.
Read Other Articles In Article (Archive)