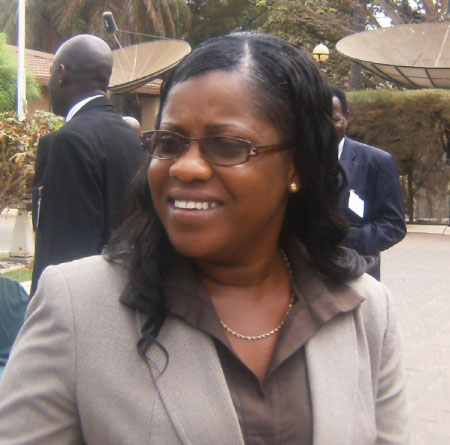 The Ministry of Tourism and Culture, in collaboration with the Gambia Tourism Board, is organising a two-day seminar on quality and service delivery standards in the tourism industry.
Held at the Senegambia Beach Hotel, the workshop, aimed at building the capacity of stakeholders of the tourism industry to enhance excellent service delivery in the hospitality industry.
In her opening statement, Hon. Fatou Mass Jobe-Njie, Minister of Tourism and Culture, said building the capacity of tourism stakeholders has been an ongoing concern for the hospitality industry.
She said she was very much delighted to be part of the high level seminar which has been designated to address issues as well as serve as an avenue for interaction and sharing of best practices in the key areas of quality service delivery and other standard operating procedures in the hospitality industry.
Minister Jobe described the forum as timely as the tourism industry is undergoing innovative reforms that cut across every facet of the industry including product development, destination marketing, institutional reengineering and upgrading of service standards.
She stressed that these reforms are ongoing and critical in their efforts to reposition Destination Gambia as a much sought after tourist paradise both within and beyond Africa.
She added that consistent quality service delivery is the critical link in their efforts to craft a destination that is not only attractive, and trendy, but also very rewarding in terms of real Gambian experiences and services both at the level and also in country, where the various eco-lodges and camps are located.
Madam Jobe further stated that the ultimate objective is to provide tourists with a uniquely rewarding experience, and an integrated high quality product offering based on responsible and valued performances by those working in tourism, thus enabling The Gambia to develop further into the 21st century world class tourist destination.
"Tourism has evolved over the years and to remain competitive as a destination, we will have to provide services and experiences that will not only exceed guests' expectations, but also ensure total guest satisfaction in terms of the range, quality and sophistication of service, which must be delivered in style and with a smile," she said.
She also said they have not also lost sight of the need to upgrade and transform the hotel school into a centre of excellence for the hospitality industry that is capable of developing and nurturing high professional standards for the industry through quality training of young Gambians in various fields in tourism hospitality.
In his keynote address on the occasion, Dr Njogu L. Bah, secretary general and head of the civil service, said the high level refresher programme underscored the growing need to mainstream quality in tourism and a sign of the high level commitment to tackling service standard issues in the hospitality industry.
According to him, the event underscores the increasing linkage and symbiotic relationship between quality service delivery and the overall efforts to reposition Destination Gambia as an internationally recognised haven, leisure hotspot and trendy destination for tourists of all categories.
He added that the new tourists are getting more demanding, and by nature they travel widely to many different destinations and are used to high quality of service.
"An important part of the tourism management process is the understanding of these key drivers of change and shifting lifestyle and tastes of tourists and crafting appropriate responses to these changes," he explained.
He said further that the future performance of tourism and related activities will depend largely upon the skills set, qualities and knowledge that managers will be able to bring to their businesses in confronting and addressing these challenges.
It is evident from the foregoing that the future of tourism is bright but in an increasingly globalised and competitive world, Dr Bah said, adding that it is incumbent on tourism destinations such as The Gambia to embrace innovation and design more robust strategies with a view to mainstreaming quality in the operations and exceed the expectations of the myriad of guests in the various hospitality establishments.
"It is therefore my expectation that this refresher workshop is here to address these issues, in a bid to empower you the managers and frontline staff of our various resorts and hospitality establishments to be able to appreciate and adapt to change," he said.
Read Other Articles In Article (Archive)